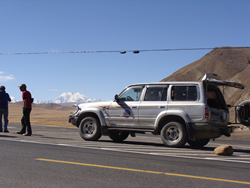 Feel free to contact Tibet Travel Org for updated information on travelling in Tibet.
Tibet (PRWEB) March 25, 2014
"Thanks to the improved transport condition, it is much easier to travel to and through Tibet. In the past, travelers could only fly to Tibet," said Mrs. Catherine Jing, manager of Tibet Travel Org CITS. "Nowadays, you have a variety of options, by train, by air or by road."
Tibet, for most of its history, was relatively isolated from the rest of the world due to its high elevation. Supplies were mainly transported to Tibet through aircrafts and highways. After Qinghai-Tibet Railway was put into use in 2006, most transport relies on the railway.
This railway has not only ended the history that Tibet has no railroad, but also promoted the development of transportation in Tibet. Its first extension from Lhasa to Shigatse is expected to be opened to traffic in September 2014. Travelers can make a tour from Lhasa to Shigatse by train in only two hours. The 253-km-long Lhasa-Shigatse Railway may be further extended to Nepal.
Construction on its second extension from Lhasa to Nyingchi, 435 kilometers long, is set to begin this year. The Lhasa-Nyingchi Railway is actually a section of the proposed Sichuan-Tibet Railway, which will be a 1,900 km line linking Lhasa and Chengdu. Upon completion, travelers can take a train from Chengdu to Lhasa via either Qinghai-Tibet Railway or Sichuan-Tibet Railway. The journey between Lhasa and Nyingchi, which are now linked by car and airplane, will be shortened to less than two hours from the current over nine hours' drive.
The local government also invests an enormous amount on constructing roads. Old roads are repaired and many new ones are built. A highway network has formed in Tibet, with Lhasa at its center and supported by five national roads.
According to statistics released by local authorities, over 70 thousand kilometers of roads have been built through 90 percent of villages in Tibet. In 2013, 5,288 km rural roads were built. Over 70 counties and 813 registered monasteries in Tibet are now accessible by paved roads. A plan has been made to build blacktop roads to over 80 percent of townships in Tibet, with a special focus on road connection to tourist sites.
In addition, an air transport network, centered on Lhasa Gonggar Airport and supported by Bangda Airport in Chamdo, Milin Airport in Nyingchi, Kunsha Airport in Ngari and Peace Airport in Shigatse, has taken shape, connecting Tibet to 29 cities with 48 airlines. With the increase of tourists to Tibet, more flight routes will be launched soon. It is very easy to fly to Tibet from mainland China or from Lhasa to other places in Tibet.
"The improvement of the transport network in Tibet attracts more and more visitors. The number of our clients is also increasing every year," Catherine said. "We sent nearly 1,000 foreigners to Tibet in 2012 and over 1,500 in 2013. This year, we are confident to reach 2,500 because we have built a professional team over the past 12 year."
"Honestly, the mass of tourists may cause some ecological problems. We are trying our best to promote ecotourism. We encourage travelers to join in a tour group," said Catherine. "It is very easy to find travel mates if you choose our hot Tibet tour packages."
According to Catherine, their best-selling routes are:
1) Traveling from Beijing to Tibet by train and then to Nepal by road;
2) Flying from Chengdu to Nyingchi (eastern Tibet) by air, then continuing to Lhasa and Everest Base Camp by road;
3) Traveling from Xining to Namtso and Lhasa by train;
4) Traveling from Kathmandu to Lhasa via Sino-Nepal Highway and then to mainland China.
About Tibet Travel Org CITS
Tibet Travel Org CITS (http://www.tibettravel.org), the top online Tibet tour operator, annually sends more than 1,000 individual travelers and over 100 tour groups to Tibet. It helps travelers to obtain the Tibet Travel Permit, book air/train tickets to Tibet and customize their tours. The company also keeps travelers updating latest information about Tibet on Facebook (tibettravel.org) and twitter (@TibettravelOrg).