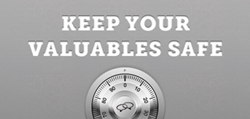 It is important for travelers to take necessary precautions protecting their jewelry while traveling to prevent from losing it or having it stolen.
Fresno, California (PRWEB) September 05, 2013
Many travelers enjoy bringing expensive jewelry on their vacations—after all, aren't vacations about enjoying the luxuries in life? Despite the desire to bring jewelry on vacation, there are significant risks faced by travelers with jewelry, in terms of safety and the threat of theft. Many travelers may enjoy the benefits of top rated alarm systems when they're at home, yet don't take similar precautions during their travels.
The premier third party safety and security site AlarmSystemReport.com created a list of tips for travelers to ensure their jewelry and their personal safety remain intact. AlarmSystemReport.com is a fully independent site dedicated to providing reviews of alarm system companies, along with the most updated in alarm system news.
1. Choose jewelry sparingly. Although a traveler may want to carry certain special pieces, it's best to leave the extremely valuable or irreplaceable items at home. Carrying fewer pieces of jewelry will also make it easier to keep track of items, and if a theft does occur, it will be less detrimental than if a large amount of valuable jewelry is taken.
2. Carry expensive jewelry onto a plane, rather than checking it with luggage. Some people opt to wear jewelry, but for travelers who do so, it's best to make sure it's out of plain sight. For example, a necklace could be tucked into a shirt or sweater, or an expensive watch could be covered by a sleeve. Jewelry that's in the sight of the public makes a traveler a more likely target for criminals.
3. Insure all jewelry. This is important regardless of whether or not a person travels frequently. Not only do most insurance policies protect against theft, but also damage and loss. For travelers going abroad, it's important to be aware of any stipulations in their insurance policy, because some companies and policies only provide domestic coverage.
4. If expensive jewelry is located in a bag, a traveler should keep that bag with them at all times, and not hand it off to anyone. This includes airline staff, hotel staff, or taxi drivers.
5. Be cautious of hotel safes. Guests may not be aware of the large number of hotel staff members that have access to these safes.
6. In addition to protecting against theft, travelers should also remember to avoid situations that can damage valuable jewelry, such as chlorine, or sandy beaches. Travelers should treat jewelry with the same care they would while at home to prevent permanent damage.
About AlarmSystemReport.com
AlarmSystemReport.com is a third-party website that provides secret shopper-style reviews of the top home alarm companies in the country. The site also gives consumers access to valuable coupons and security system discounts, which can be used for the purchase of top security equipment and monitoring services.