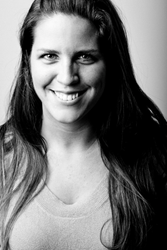 I'm extremely honored to receive this award that recognizes the great effort we put in developing the Select Croatia brand
New York, NY (PRWEB) September 12, 2014
Select Croatia (http://selectcroatia.com), the web-based boutique travel company specialized in travel to Croatia, has recently announced that Maja Gudelj, Director of Croatia Travel and Yacht Charters, has been selected for Travel Agent Magazine's 30 Under 30 list for her exceptional custom Croatian travel planning.
The Travel Agent Magazine's 30Under30 list is a feature that highlights the next generation of agents who are discovering new destinations and new ways to connect with travelers. Every year Travel Agent Central evaluates hundreds of applications and hand-picks the 30 most innovative and talented young travel agents.
Ms. Gudelj, who was born and bred in Split on Croatia's central Dalmatian coast, prides herself in her work and Croatian heritage and is an expert consultant for Croatia as well as sailboat and yacht charters. Thanks to her vast network of suppliers and cultural contacts she is able to craft the finest custom tours to Croatia.
"I'm extremely honored to receive this award that recognizes the great effort we put in developing the Select Croatia brand since joining the company in 2010 and working on the project alongside with Select Italy's founder and owner, the late Andrea Sertoli," says Gudelj, "and I'm even more flattered by clients' positive feedback in general on Croatia as a whole.
The inclusion of Gudelj in the 30Under30 list is also an important recognition for Select Croatia's parent company, Select Italy, and vouches for the ability to instill in the recently created brand under the Select Italy umbrella the same high standard of service, professionalism and expertise that makes Select Italy unique for vacationers and industry professionals regarding travels to Italy.
For further information about Select Croatia's custom trip planning service and to see the complete portfolio of travel services to Croatia, visit selectcroatia.com.
About Select Italy
Select Italy® is The Ultimate Source for Travel to Italy® offers a wide array of superior Italian travel products and services, including customized itineraries, state-of-the-art tours and packages, wedding/honeymoon trips, unique culinary classes, a complete pre-departure ticketing service for museums and musical events, private guided services, yacht charters, transportation, hotel reservations, villa bookings and more. Through a vast network of suppliers and cultural contacts, anything and everything you need for optimum travel to Italy is possible with Select Italy. Based in Chicago with an office in New York and Shanghai and support staff in Italy, the company has expanded its offerings and travel services to the Balkans with the launch of Select Croatia®.