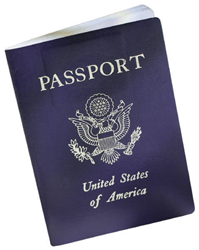 Instruction in basic passport security should be a component of every travel security program where international travel is involved.
Los Angeles, CA (PRWEB) March 27, 2014
Incident Management Group, Inc. (IMG) (http://www.theimg.com), a top employee travel security firm, has released guidelines on passport security. On March 11, 2014 BBC News reported that two men aboard Malaysia Flight 370 were traveling on stolen passports. To see the BBC's full story follow: http://www.bbc.com/news/world-asia-26525281
In response to this event, the travel security professionals at IMG are releasing guidance on passport security. Stolen passports can fetch a high price on the black market. Once pilfered, they are often used fraudulently by criminal gangs, intelligence agencies, and individuals hoping to immigrate to a new land. Passport theft can pose serious inconveniences to travelers and expose individuals to identify theft. As a result, IMG has released an article to educate travelers on the essentials of passport security.
"Instruction in basic passport security should be a component of every travel security program where international travel is involved." explained Chris Hagon, Managing Partner of IMG. "Having a passport stolen is almost always a major inconvenience, and often leads to a major change in travel plans. In the case of the Malaysia Airlines flight, stolen passports were used to permit two unauthorized individuals from boarding an internationally bound aircraft. Luckily, as a leading employee travel security company we have a lot of experience with passport security. We thought it prudent to share with others what we know. That is why we have released this article."
IMG: Experts in Employee Travel Security
To learn more about the IMG's experience with passport security and employee travel security please visit:
http://www.theimg.com/travel-executivesecurity.html
At this web address, interested parties can find more information on IMG's extensive experience in employee travel security, executive protection, and risk assessments.
IMG's 3 Easy Tips to Effective Passport Security
The missing Malaysia Airlines flight has highlighted the importance of passport security. Fortunately, IMG has extensive experience in employee travel security and has developed 3 easy tips that should help travelers maintain passport security. While the below is not comprehensive, it highlights some less well-known tricks of the trade.
Tip #1: Laminate a Copy of a Passport's First Page
Travelers should make a copy of the first page of their passport and laminate it. They should then use this as their primary identification document. This technique can help individuals maintain control of their passport by allowing them to keep it in one secure location. It also may help individuals avoid certain types of scams.
Tip #2: Cover the Passport
In addition to making a laminated copy, travelers should also use a passport cover. Criminals and certain extremist groups have been known to target specific nationalities. Using a passport cover helps ensure that travelers won't stand out, making them a harder target.
Tip #3: Have a Stolen Passport Plan
Despite the best passport security measures, a determined ne'er-do-well can still steal a passport. As such, travelers should understand what they have to do in such an event. Often, this involves traveling to the embassy or consulate, producing identification, a birth certificate, and paying a fee. Given that this could be difficult in the aftermath of a mugging or robbery, travelers should have a plan in place before hand.
Those wishing to read the full March 12, 2014 article on IMG's guidance on passport security should visit the address below:
http://imgsecurity.net/missing-malaysia-airlines-flight-stolen-passports-img-releases-guidance-travel-security-passport-protection/
About IMG
The IMG Group is a leading employee travel security consulting firm. Corporate or business organizations concerned about their need for detailed and robust employee travel security plans can reach out to the IMG Group for assistance. The company's expert consultants provide services such as executive, employee, VIP, and expatriate travel security, workplace safety, duty of care management, risk and threat assessments, workplace violence prevention, crisis management planning, and more.
Web. http://www.theimg.com
Tel. (877) 887-9914 or (352) 460-4731