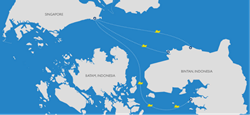 Ferries are an important part of the travel landscape between Singapore and Indonesia.
Singapore (PRWEB) July 09, 2014
Journeyful, a Singapore-based travel-tech startup, is pleased to announce the launch of BintanFerry.com – a resource for both travel agents and visitors booking ferry tickets to Bintan, Indonesia.
BintanFerry.com aggregates schedules and pricing from the handful of ferry operators that service the routes between Singapore and Bintan, its Indonesian neighbor. The island is a popular resort destination and can only be accessed from Singapore by way of ferry. Over the next few years, international tourist arrivals into the island are expected to surpass one million travelers.
"If you live in Singapore, you've definitely traveled by ferry," explains Amelie Tan, Journeyful's Social Media Manager and member of the BintanFerry.com team. "Prior to our launching the site, some of this information was only available over the telephone. We're looking forward to continue expanding the content of this site in the coming months."
Bintan is undergoing a development boom with nearly a dozen new hotel and resort projects currently underway. The island's profile is expected to rise sharply amongst both Asian and European leisure travelers in the coming years.
"When it comes to travel, nothing beats local knowledge," explains Moe Ibrahim, Journeyful's CEO. "Although we may be considered a travel startup, we are veterans when it comes to Asian travel knowledge and experience. We know how important ferries are to the local travel landscape. That's why we built a ferry booking engine for Journeyful early on. We've sold over 160,000 ferry tickets in the last 18 months and we expect this number to continue growing."
BintanFerry.com currently links travelers directly to each ferry operator's website should they wish to book a ticket. In the future, Journeyful intends to completely integrate a white-labeled version of its ferry booking engine into the site. The company also intends to market this booking engine to ferry operators around the world.
For information about Journeyful's ferry booking technology, please contact info(at)journeyful(dot)com.
About BintanFerry.com
BintanFerry.com is the definitive guide for anyone looking to travel to Bintan, Indonesia by way of ferry. The website is owned and managed by Journeyful Pte Ltd, a Singapore-based travel technology company.
Please visit us at http://www.BintanFerry.com.
About Journeyful
Journeyful is a Singapore-based company that develops a suite of apps and provides services to the travel industry. Their product and service portfolio includes: Journeyful.com - a rewards-based online travel agency, Journeyful Travel – connecting retail travel agencies to local communities, and Journeyful MICE – providing full-service solutions for business conferences, corporate events and incentive designed tour groups.
Please visit us at http://www.journeyful.com.
For media enquiries please contact:
Journeyful Pte Ltd
Ms. Pallavi Malviya Gupta
Marketing & Communications Manager
Phone: +65 6485 5187
Email: pallavi(at)journeyful(dot)com