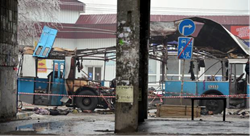 E-travelsafety.com Expresses Travel Safety and Travel Security Concerns at the Sochi Winter Olympics?
Hereford, UK (PRWEB UK) 7 January 2014
With the world set to watch the Winter Olympics in Sochi, starting in only a month, two recent devastating events have raised concerns of the travel safety and security in Russia. Only recently Russia has gained global media coverage, with the incarceration of several Greenpeace protestors and the Pussy Riot band. The Russian government is known for it's no nonsense approach when faced with these types of incidents, but this is different.
On the 29th and 30th December 2013, Russia has had two bomb blasts that have killed 34 people and injured over 60 in the southern city of Volgograd. Both of these incidents are both being branded as terrorist attacks. Since the explosions Russian Security Forces have had a crackdown and detained more than 700 people in Volgograd, as covered by the BBC (Volgograd blasts on the 31st Dec 13).
Russian authorities have said that it has no doubt they will provide adequate security for the games, with the country on red alert with the Winter Olympics due to start in February. Security throughout the country has been tightened with an emphasis on the transport hubs such as train stations and airports.
Volgograd is in the southern part of Russia only 15 hours away from the winter Olympics base Sochi. This will without a doubt be a huge concern to not just the 10,000 athletes travelling to Russia for the Olympics, but also the many thousands of workers and spectators. Now is the time to ensure that you have all your travel safety plans in place prior to going to the Games.
e-travelsafety.com specialise in providing travel safety advice for any location around the world. From the pre-travel planning, to how to react if something goes wrong when travelling, every eventuality is covered. This can all be provided from home or in the office through our cloud based travel safety e-learning package. £30 provides a 12 month user licence with unlimited use of all the tools, such as the pre-travel risk assessment, destination guide plus much more.
If you would like to know more about the Travel Safety E-Learning Package, try the course today with no obligation - Just Click Here
Safe Travels!