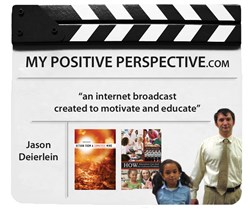 Charleston is amazing, I couldn't imagine starting My Positive Perspective anywhere else.
Charleston, SC (PRWEB) November 12, 2013
On November 12, 2013, My Positive Perspective broadcast an episode to recognize and appreciate the benefits of living in the city of Charleston, South Carolina. My Positive Perspective host Jason Deierlein was joined by Ben Toy for the episode. After Deierlein finished his introduction, Toy says, "For the third year in a row the readers of travel magazines have voted Charleston as the top destination city in the country. The Charleston Visitors Bureau released a video announcing the award."
Toy then continues saying, "In the video, people were asked what their three favorite things they enjoy about Charleston." Toy then asked Deierlein what his three favorite things about Charleston were. Deierlein replies, "I love going out on my boat, I enjoy meeting friendly people here, and the weather here is always so nice. Charleston to me is a city with tremendous positivity about it, I couldn't have imagined starting the My Positive Perspective business any place else."
Deierlein then turns to Toy and says, "There is so much to do outdoors here, and I know your company, On Purpose Adventures, tries to highlight that." Toy agrees and says, "We also have talented musicians, chefs and comedians in our city. We are truly fortunate to be here."
My Positive Perspective is a media outlet believing that improvement in our community will be best achieved by focusing on the good things happening in our world today. Having survived a near fatal car accident as a youth, a shift of perception forced one to have a mentality of always concentrating on the brighter sides of things. This was true, and in my book, Return From a Comatose Mind, this belief was put to the test. Appreciation for life was the biggest thing one took away from my brush with death, and it is because of that gives me such a huge desire to be helpful to many. My Positive Perspective is a way of overcoming challenges through positive thinking.