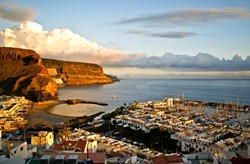 This organized gang has allegedly has been defrauding tourists visiting Gran Canaria for a period of more than six years.
Las Palmas, Spain (PRWEB) August 01, 2013
International timeshare company Travel & Leisure Group has joined other timeshare and travel firms throughout Europe and the UK to voice its support over the crackdown on alleged timeshare scammers on Gran Canaria that took place July 22.
In a new blog from Travel & Leisure Group titled "Travel & Leisure Group Salutes Mindtimeshare Organization, Alberto Garcia, and Spanish Police for Taking Down Timeshare Crime Ring" dated July 31, 2013, guest blogger Liz Ernst disseminates media reports of the capture of the organized crime ring on Gran Canaria that had been victimizing tourists for six years.
Reports from British news media including a July 29 article in the Lancaster Guardian say Spanish police reported that most of the offending agents are British, as are most of the victims. The Guardian article reported that the Organized Crime Unit of the Las Palmas police force raided offices and sales decks of various Holiday Club Companies, including Voyager Travel, Lifestyle Holidays, Reclaimgc and Timeshare Refund Network. Computers and files were confiscated from company offices in Arguineguin and San Bartolomé de Tirajana, according to the Guardian article and that police reports state that the gang's leaders have had similar trouble in the past.
British national Paula Beatson, the alleged ringleader, is thought to be a former chartered accountant, according to a Lancashire Evening Post account. was allegedly involved in several companies seized by investigators. The Lancashire Evening Post also reports that German national Eugen Friederich Kaiser, a Gran Canaria resident since the 1980s, was also associated with fraud crimes in the past although he was never convicted, and that Norwegian Kieron Day has been identified as crime ring's third alleged leader.
According to The Lancashire Evening Post article, Spanish police reported on July 30 that all those arrested have made statements, but no charges have been filed. Some of those arrested had been released on bail.
"These types of organized timeshare scams do so much more than give the industry a black eye," Ernst says. "They can ruin the lives of so many victims.
With more than 20 years invested international timeshare sales and resales, Travel and Leisure Group is a vocal supporter of efforts to create a safe environment industry-wide for people to buy, sell and rent timeshares without worry.
According to the Lancashire Evening Post, Spanish Police claim that the arrested sales agents would pose as representatives of the Canary Island tourist office and swarm British tourists on the streets of Grand Canaria, snaring them with prize-winning 'scratch cards' and promises of free gifts to lure them to attend a promotion. Once there, victims were subjected to eight hours of "hard sell" tactics in a scheme that falsely promised them access to luxury holiday accommodations at a heavily discounted rate.
Travel & Leisure Group Managing Director Maria Mills-Farinas says that even though the Canary Island scam is a common one, the fact that it took six years for police to intervene shows how challenging it is to catch them.
"The best defense for travelers is to know who the scammers are and how they operate, and then steer clear of them by choosing a legitimate timeshare company and sticking with it," Mills-Farinas says.
Mills-Farinas warns travelers that although there are plenty of honest, successful timeshare investments available, they should be prepared if they do come across a fraudulent timeshare opportunity by reminding themselves: if it seems too good to be true, it probably is.
When it comes to selecting the right company to help customers sell or buy a timeshare, look for a well-established firm that has been in the business for years. A reputable timeshare company will have an easily researched history and an excellent reputation in the industry.
For more information or guidance to buy timeshare, sell timeshare, or rent timeshare in the United Kingdom, Travel and Leisure Group Resale can help safely navigate sometimes murky waters. To inquire about buying, selling or renting a timeshare, visit the Travel & Leisure Group website. U.S. inquiries call 813.965.4373; EU inquiries call 0800 071 1372 (sales), 0800 071 4674 (purchasing), or 01787 881111 for general information.
About Travel & Leisure Group:
With more than 20 years of timeshare industry experience, Travel & Leisure is an international timeshare resale firm with a team of dedicated and multilingual brokers specializing in all aspects of timeshare resales worldwide. By taking full advantage of management and staff's collective expertise, the Travel & Leisure has created a safe environment for private individuals to buy, sell and rent timeshares. All Travel & Leisure Group transactions are guaranteed through escrow.
Recommended by major timeshare resorts and developers worldwide, the Travel & Leisure Group is a member of the Resort Development Organisation (RDO), The Association for Timeshare Owners Committees (TATOC), the Timeshare Owners Association and the American Resort Development Association (ARDA) and the Australian Timeshare and Holiday Ownership Council Limited (ATHOC).