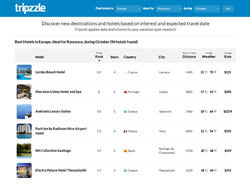 Tripzzle is unique in that it not only filters results based on what type of a travel experience a traveler seeks, it also explores multiple booking engines to locate the ideal hotel value for the specified date
Abu Dhabi, UAE (PRWEB) September 03, 2014
Tripzzle, a free web-based interactive service that provides highly accurate travel destination and hotel recommendations based on traveler preferences, is pleased to announce the launch of its new website. The site helps travelers from both the leisure and business segments to precisely refine their travel plans.
The new website, Tripzzle.com, uses a complex algorithm that is both intuitive and scientific to pinpoint the various tourism destinations around the world that match the criteria travelers are able to predefine. For example, the input parameters, which visitors to the site can use to locate the best destination and hotel choices, include seven geographical regions along with nine holiday related preferences including various beach vacation spots, fun family activities, and luxury and entertainment choices.
While traditional travel booking websites typically assume that the traveler knows where he or she wishes to go, this is not always the case. Many people do not have a firm idea of where they want to travel, and they typically welcome suggestions about destinations based on their passions and interests. This is where Tripzzle can help; by stepping in and making logical recommendations, travelers can get accurate and helpful suggestions on where they might like to spend their next vacation.
In order to make the recommendations as accurate as possible, travelers can also specify the month of the year in which they wish to travel. Tripzzle works by analyzing the various parameters that the traveler provides and uses a sophisticated ranking algorithm which identifies an exact travel destination as well as hotels that are located in the specific city. Search results also include local temperature and weather conditions, geographical distance from where the traveler is located, city and country where the hotel is located, and average price per room night. Tripzzle also provides a link to the hotel property for more information and to make a reservation.
"Tripzzle is unique in that it not only filters results based on what type of a travel experience a traveler seeks, it also explores multiple booking engines to locate the ideal hotel value for the specified date," noted a spokesperson for Tripzzle, adding that based on its cutting-edge decision-making algorithm, Tripzzle invariably selects the best hotels for travelers.
"The website, which is updated continuously 24/7, returns search results through a highly intuitive and user-friendly interface."
About Tripzzle:
Tripzzle, a website develop by Picasso Interactive Limited, has been launched to help travelers belonging to both the leisure and business segments refine their travel plans with precision. Picasso Interactive Limited, located at Picasso.ae, is a company specializing in a variety of media solutions. They aim at creating an advantage for their clients in today's competitive business environment. Their ideas are to build a long-term relationship with customers by helping them reach their objectives, and grow their own businesses. To organize and implement values creating strategies with their clients, they give them a better experience. For more information, please visit http://tripzzle.com/
Picasso Interactive Limited
202B-FD, Masdar City, Abu Dhabi
United Arab Emirates