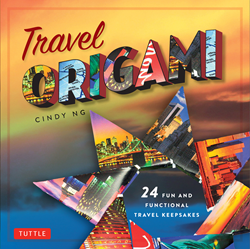 North Clarendon, VT (PRWEB) August 28, 2014
Tuttle Publishing author Cindy Ng, has released her second book Travel Origami - 24 Fun and Functional Travel Keepsakes. Ng is an origami designer whose origami kits and hand folded silver jewelry are sold in museum shops worldwide, including the San Francisco Museum of Modern Art and the Victoria & Albert Museum. Her work has also been featured in Real Simple, Elle, and the New York Times. She is the editor of the popular "Origami Blog" and author of the chic fashion origami craft book Girligami Kit.
In her newest book, Ng shows readers how to take the paper souvenirs collected on travels and turn them into beautiful and useful folded origami objects that serve as visible mementos. By using those postcards, street maps, tickets and souvenirs, readers will be able to convert them into artful memories that can last a lifetime.
There are 24 fun-to-do DIY origami projects that are fun to make and fabulous to display at home. Foolproof step-by-step and easy-to-follow instructions show readers how to fold paper collections into special items that can be worn, carried, hung on walls, or as a gift to traveling companions as a special keepsake. Projects include a variety of jewelry, photo frame, lampshade, wreath and so much more. This book is the perfect way to stretch adventures into hours of memory-making fun while reminiscing with family and friends. Travel Origami is now available in bookstores everywhere or online.
About Tuttle Publishing
Established in 1948 by Charles Egbert Tuttle Jr. in Rutland, Vermont and Tokyo, Japan, Tuttle Publishing is the premier publisher of English language books on Asian culture. Today, Tuttle maintains an active offering of books on a wide range of topics, including Asian culture, Asian literature, Asian architecture, Eastern spirituality, gardening, cooking, martial arts, crafts, travel, health and wellness, and fine art for a worldwide audience. For more information, visit http://tuttlepublishing.com.