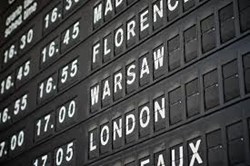 Pre-travel planning is one of the most important stages of any traveller's journey.
Hereford, UK (PRWEB UK) 21 January 2014
"Pre-travel planning is one of the most important stages of any traveller's journey."
If everyone believed this to be true, then the level of incidents that occur relating to travel safety would be greatly reduced. Pre-travel planning is without a doubt a key factor that can increase travel safety.
E-TravelSafety.com believes that by undertaking pre-travel planning, not only will your trip be more enjoyable but also it will be safer. Here are a few areas that will help with pre-travel planning.
Pre-travel risk assessment
Prior to any trip it is advisable to undertake a pre-travel risk assessment. It would be pertinent, but negligent to only consider the threats at the country you are visiting, other factors should always be included. Other contributing factors should always form the basis of a pre-travel risk assessment, these are areas that have the ability to increase and decrease the travel safety and travel security during the trip.
A pre-travel risk assessment should include the traveller's gender, age, fitness, number of passengers, modes of transport, prior experience, purpose of the visit, valuables and medical conditions these are some contributing factors that will have an impact on travel safety. For example, a middle aged, unfit man with a bad heart condition and very limited travel experience could pose a bigger risk in a European country, than an experienced female traveller in the Middle East. By undertaking a pre-travel risk assessment, the traveller is able to review different risks associated with the planned trip and look to reduce the risk where possible.
Destination Guide
Prior to any trip, it will help the traveller to have as much information on the destination as possible i.e., what is the local language, what is the currency, electrical voltage etc. The FCO provides a great source of information, especially for travel security. Many other travel websites such as trip advisor and the lonely planet will all provide useful information to help with pre-travel planning. Another useful resource is Google Earth; this site will assist in providing the traveller with a sound study of the destination, routes to and from a place of interest.
Entry Requirements
Always ensure that you have all the relevant documentation or certification, and that it is in date prior to trying to gain entry into a country. Trying to smooth talk your way through customs will not work, and could delay you for longer. Prior to travelling always check the visa requirements and details of the visa.
Simple checks such as passport requirements, what time duration needs to be left before the expiry date? What are the onward travel requirements? What medical certification is needed to enter the country, such as yellow fever certification or any others?
Safety and Security
The main aim of the pre-travel risk assessment is to enhance the travel safety and travel security whilst travelling. The threats will vary from country to country. By undertaking a little research, the traveller can greatly reduce the chance of creating an opportunity for a potential attacker, or offending a local that can escalate into an uncomfortable scenario.
The key safety and security areas to research prior to travelling are:

Crime rate and 'no-go' areas. With the resources provided try and look at current scams or crime trends towards tourists
Political situation - how stable is the government, are demonstrations happening during your stay?
Terrorism -are terrorist attacks common in tourist areas, are foreigners targeted by terrorists?
Local laws and legislation - don't take for granted that you can do the same in that country as your home country.
Customs and etiquette - learn what is considered acceptable and what is not.
Gender and sexuality issues - these are viewed differently around the world
Natural disasters - is the country prone to extreme flooding and are you travelling in the peak of the rainy season?
This information provides the foundation of pre-travel planning for any traveller but still only covers some of the required areas. Other pre-travel planning areas would include communications, Medical and Health, Travel Essentials, Documentation to name but a few.
To find out more about pre-travel planning or would like help in undertaking pre-travel planning a full guide can be found on the e-travelsafety.com travel safety e-learning package.
E-travelsafety.com provides travel safety training and advice in an interactive e-learning package for only £30 for a full 12 months. This includes a pre-travel risk assessment, full pre-travel planning guide and destination guide as well as lot more to help raise travel safety and reduce risk.
Safe Travels.