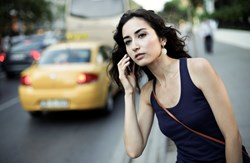 Quite simply, TravelSim decreases the roaming charges for the mobile consumer and increases the roaming profits of MVNOs.
(PRWEB) October 31, 2013
With its latest set of tariff cuts, TravelSim, a product of Top Connect, is fast eliminating the cost-concerns of mobile travellers when using their mobile phones on business or pleasure. This is good news for its world-wide network of partner Mobile Virtual Network Operators (MVNOs) with higher data usage leading to increased roaming profits.
Today, all travellers need to guard against high data roaming charges from Mobile Network Operators in partnership with their home mobile network provider. According to the latest research published by CCRI this week, which was featured in Prepaid MVNO*, 40% of large organisations have average monthly international mobile costs of $1,000 per user.
Today's perceived 'high' cost of roaming while abroad greatly suppresses demand. Many mobile users simply turn off mobile data on their devices, use it sparingly or search for Wi-Fi hotspots.
If MVNOs could control the data roaming charges of travellers, it would allow them to capture a huge amount of increased revenue as smartphones would suddenly be allowed to be 'smart' again. TravelSim's international mobile SIM card enables this to happen.
TravelSim's prepaid SIM card places the user in full control of what they spend when abroad. By eliminating the cost concern for travellers, whether it is business or pleasure, MVNOs can expect to at least quadruple data usage of people entering their network on a temporary basis and drive greater profits into their operations.
TravelSim is the leading international SIM card provider in the world and currently has over 3.5 million users and adds approximately 50,000 new customers each month. It has the largest network of MVNO partners in the world.
TravelSim is a pre-paid service which has been designed to operate on grade 1 GSM networks and can save mobile users customers up to 85% while using their mobile device abroad. The card can be used in 190 countries around the globe.
Along with low cost controllable data, TravelSim's seamless call back service means making international calls from mobile is always affordable no matter where you are. As well as the cheapest international calls, users get free incoming calls in over 135 countries and free incoming SMS worldwide.
"Quite simply, TravelSim decreases the roaming charges for the mobile consumer and increases the roaming profits of MVNOs," says Mikhail Markin, Head of Product Development Department, TravelSim.
"By teaming with TravelSim, MVNOs can drive more users to their networks and greatly increase average revenues per user (ARPU) from travellers who are temporarily using their networks. This means increased profits.
*(http://www.prepaidmvno.com/2013/10/23/55-percent-enterprises-sacrifice-productivity-due-international-mobile-communication-challenges/)
TravelSim is a product of Top Connect focused on both the business and leisure traveller. It is the world leader in international prepaid roaming solutions and is proven to save 85% on international roaming charges as well as offering very competitive data rates. Unlike local mobile operator cards, TravelSim is made for use around the world in over 190 countries. With exceptionally low rates on outgoing calls and free incoming calls in over 140 countries, TravelSim is the answer to the question "how to call cheaply from abroad." TravelSim currently has over 3.5 million users worldwide. For more information visit TravelSim webpage.