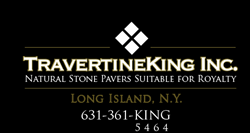 Travertine King Inc. Proudly Announces the Launch of New Website at travertinepaverking.com.
Smithtown, New York (PRWEB) January 31, 2014
Travertine King Inc, a direct importer and distributor of granite, marble & pavers travertine pavers for the Long Island region, is pleased to announce the launch of their new website at http://travertinepaverking.com.
Travertine King specializes in bringing high-quality paver products to consumers throughout the Long Island region, importing direct. As a direct importer and distributor, Travertine King is able to sell direct the buying public while offering wholesale pricing. The savings extended to the consumer by not dealing with retail outlets allows more people to experience the superior quality of these materials while sticking to any budget they may be working with. The additional benefit for consumer is that it allows them to realize the desired style that they may be trying to achieve without using lesser materials. The pavers that Travertine King sells can be used to create everything from a new patio to a walkway, a poolscape, stoop or driveway. Travertine King also offers 3D paver project design and then connects consumers with contractors who can complete the project.
The team at Travertine King has built a solid following among consumers in the Long Island regions and the new website was designed to introduce even more potential clients to the product they have to offer as well as the services they can provide for a more complete customer experience. Working with Benjamin Marc, the premier web and graphic design firm serving Long Island and the Tri-state area, the new website was conceived with the goal of it being evocative of what Travertine King Inc brings to the table. The stylized design with cool, crisp lines combined with easy navigations and effective presentation of the products that are offered captured the vision that the Travertine King staff communicated in the consultation phase of the site design process. The finished product has them confident that their expressed business goal of greater market penetration will be realized.
Travertine King inc., the largest distributor of natural stone pavers such as travertine pavers, granite pavers, and marble pavers to the Long Island region, are direct importers of paver products from countries like Italy, India, China & Turkey. Their entire stocked product line is offered in French multi pattern colors & 6x9 inch pavers with matching 2 inch thick bull nose for copings and steps along with split face material for wall cladding and step risers. All travertine pavers stocked are 1.25 inch thick with a tumbled finish. Other finishes are available upon request. Travertine King is currently the only supplier of 6x9 inch travertine pavers & natural stone pavers which is best size and most popular in Long Island & the US for herringbone pattern, soldier bordering, and radius designs. Travertine King Inc. can be found on the web at or they can be reached by phone at 631.361.5464.