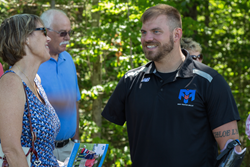 A large part of our donations comes from individuals – proud, everyday Americans who just want to help our vets.
Rome, Maine (PRWEB) June 26, 2017
In April 2012, U.S. Army Staff Sgt. Travis Mills lost all four limbs after an IED explosion in Afghanistan. Five years later, SSG Mills and the Travis Mills Foundation unveiled their newly renovated veterans retreat at a grand opening and dedication ceremony.
Originally built in 1929 by cosmetics maven Elizabeth Arden, the country's first beauty spa is now a fully accessible facility in Maine for combat-injured veterans and their families. The retreat will offer – at no cost to the families – adaptive sports, recreation, spa services, and whatever else they need to recover, reconnect, and reintegrate.
More than 800 supporters turned out to see the finished retreat for the first time. They enjoyed food, drinks, and music by the Volunteers Jazz Band, with Long Pond providing a beautiful backdrop. Speakers at the event included Maine Governor Paul LePage; Jenna Lee, former FOX News anchor; and Ms. Lee's husband Lieutenant Commander Leif Babin, a highly decorated U.S. Navy Seal veteran.
SSG Mills also spoke: "I didn't think that I had a lot left to give as a father, to be honest, and then I realized on one of these trips that I can do kayaking, I can go boating, I can go tubing and fishing. And I can do things adaptively with my family."
The Travis Mills Foundation purchased the 1,200-acre property in February 2015. Since then, they've raised close to $3 million in financial and in-kind donations from local and national companies, both large and small, including New Balance, Nortrax (A Division of John Deere), John Brademas Foundation, the Windover Foundation, Operation Hat Trick, Aubuchon Hardware, G&E Roofing, Coastal Landscape, Thirsty Turf Irrigation, BOSE, LoveSac, Mattson's Flooring, James Hardie Products, DuraLife Decking, Hancock Lumber, and Mitsubishi.
Wayfair, one of the world's largest online destinations for the home, partnered with the Foundation to completely design and furnish the interior of the retreat to transform it into a comfortable and beautiful home away from home for veterans and their families. Nearly 800 pieces of furniture and décor were donated by Wayfair to outfit the 16 rooms in the home. With the help of more than 120 Wayfair employee volunteers, the 11,000 square-foot retreat was quickly transformed from an empty space to a fully furnished relaxing retreat in just one week.
"We're grateful to all of our donors, including the folks who have volunteered their time," said SSG Mills. "A large part of our donations comes from individuals – proud, everyday Americans who just want to help our vets."
To support the Travis Mills Foundation, go to http://www.travismills.org.