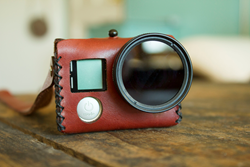 We designed the Travler to easily carry your GoPro® while on a hike, going to a concert, or just hanging out with friends
Salt Lake City, Utah (PRWEB) June 10, 2015
Introducing The Travler, a vintage inspired and handcrafted leather case for your GoPro®! The simple fact is that the bulky plastic case that the GoPro® Hero comes with is simply too big to fit in normal pockets. This makes the camera inconvenient and a hassle to use day-to-day for anything other than extreme sports. The Travler case was "designed to easily carry your GoPro® while on a hike, going to a concert, or just hanging out with friends."
They've partnered with local manufacturers to create a whole new market of products for the GoPro®. The case features Top Grain leather, strong hand stitching, and a lens adapter with a UV filter to protect the your GoPro®. The Travler case provides easy access to all buttons on the camera, and there are three versions of the case that fit all Hero 3 and Hero 4 models. The leather is all hand selected and all manufacturing is done in America by local craftsmen. Their products are laser-cut and hand stitched, and each Travler receives their attention to detail and high level of skill.
The Travler is a new and currently active campaign on KickStarter. We've already shipped several leather cases to GoPro® enthusiasts throughout the US and Brazil. Beyond a flood of sales on KickStarter, the Travler is also blowing up Instagram and receiving a flood of requests to buy the case. After fulfilling the KickStarter campaign they will expand into additional product lines featuring other high-quality soft leather goods.
To reach Travler Leather for comment or additional photo requests, please email them at contact(at)travlerleather(dot)com