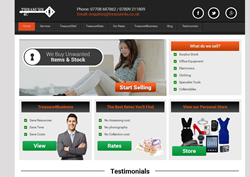 It was important to ensure that the new site would deliver a good experience
(PRWEB UK) 14 May 2015
Watford-based eBay trading assistants Treasure 4U have launched a new, improved website with a modern design to update and upgrade their online presence. In line with current usability guidelines, the new website has been built with a mobile-friendly responsive design, making it easy for clients to navigate regardless of whether they browse from a desktop PC or a mobile device. In addition, the site has a cleaner, brighter design to make navigation as easy as possible.
In light of the recent release of search engine Google's mobile-friendly algorithm, the new responsive design is a timely update, ensuring that customers searching for Treasure 4U's services will be able to find them easily even when they are browsing on the move. Statistics show that 61% of customers like a brand more when they offer a good mobile experience, and 41% have turned to a competitor after a bad mobile experience. For Treasure 4U, their old site – albeit practical – was not delivering a browsing experience to match the quality of their service, so an update was vital.
A spokesperson for Treasure 4U said: "Our clients and customers are looking for a streamlined and simple process that will make buying or selling on eBay easier for them, and the new website design is a great way to reflect that simplicity. We know that many of our customers and clients are busy, and thus likely to be browsing on the move, so it was important to ensure that the new site would deliver a good experience whether they were looking at it on a phone, a tablet or a laptop."
Treasure 4U are a reputable eBay trading assistant based in Watford, Hertfordshire. Operating since February 2012, they have consistent positive feedback and a strong reputation as a business user on eBay. As registered trading assistants, they list unwanted items on the popular auction site for their clients, both domestic and commercial, saving them time and effort and helping them to achieve the best possible sale value.
To find out more about Treasure 4U and the various eBay trading services that they are offering, please visit http://www.treasure4u.co.uk to view their website or call 07809 211809.