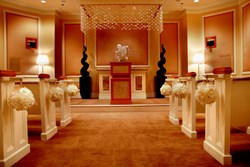 With the Wedding QuickQuote application we have expanded our visibility in the bridal market and expedited the user's search process. Dan Voss, VP Sales & Marketing; Treasure Island
Las Vegas, NV (PRWEB) January 28, 2014
Treasure Island (TI) Hotel & Casino on the Las Vegas Strip and Wedding QuickQuote (WQQ) recently celebrated their six month business anniversary and both parties agree the relationship provides an unmatched response service for those seeking a Las Vegas wedding.
Wedding Quick Quote is the wedding industry's first and only "Instant Response" RFP platform for online inquiries and gives couples anywhere in the world answers to date availability and wedding costs within seconds. The response is personal since it is based on the user selection of preferred needs and amenities.
According to Madeline Daryadel, President of Wedding QuickQuote, once a wedding is imminent, time is of the essence. "Traditions may change, but as soon as a couple gets engaged the first thing they want to do is lock in a date and a venue," said Daryadel. "Wedding QuickQuote eliminates the frustration of waiting for a reply and gives our venue subscribers a huge competitive edge."
"Treasure Island's Vice President of Sales & Marketing Don Voss immediately saw the value of utilizing our service when I presented the concept," said Carol Wilhems, the South West Regional Sales Director for Wedding QuickQuote.
"Las Vegas is a wedding destination city for couples from all over the world. With the Wedding QuickQuote application we have expanded our visibility in the bridal market and expedited the user's search process," Voss said.
Since signing up with Wedding QuickQuote, Treasure Island is now equipped to provide an immediate response any time day or night. The pick-and-click format displays the property's numerous wedding packages and amenities. Fun to use, this service ignites the bride's imagination and allows her to plan her own special day, and then receive an immediate response.
Lemisha Fields, Wedding Chapel Manager at Treasure Island (TI) Hotel & Casino knows first-hand the value of online interaction. "Wedding QuickQuote is our featured source of new leads and we are thrilled to be an innovator in the highly competitive wedding market. Couples tell us that Wedding QuickQuote is convenient, fun and easy to use," she added.
About Treasure Island
Treasure Island is the only privately owned hotel and casino on the Las Vegas Strip.
Boasting nearly 3,000 guest rooms, Treasure Island is a world-class destination for headline entertainment including Mystère, the classic Cirque du Soleil performance. Upscale and casual dining choices, hip nightspots and indulgent spa and shopping experiences further complement the one-of-a-kind Treasure Island guest experience. For information about Weddings at TI, visit http://tivegas.wqqsite.com.
About Wedding QuickQuote
Established in the late 1990's, MAD-Marketing, aka MADSearch, has been a dedicated partner to the hospitality community. In 2005 they joined with Cendyn, a leading provider of innovative software and award-winning web designs. The Wedding QuickQuote, along with the Meeting QuickQuote and Event QuickQuote, are transforming the RFP process. View video presentation for more information at http://www.wqqsite.com