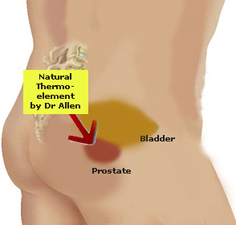 The therapeutic Dr. Allen's Device should be used as soon as BPH is diagnosed as it can terminate prostate enlargement ultimately protecting men from surgeries and their irreversible side effects.
London, UK (PRWEB) December 01, 2014
The U.S. urological market is expected to approach $3 billion by 2020, and the main growth can be attributed to the increasing incidence of BPH, says an in-depth U.S. urological report from a leading global authority in medical device market research. Thus, it's important to understand the pros and cons of various treatment options. Every surgical procedure designed to reduce enlarged prostate must be considered cautiously due to high risk of adverse side effects. Moreover, Fine Treatment underlines that many men are able to avoid these risky procedures completely by opting for the harmless and powerful Thermobalancing therapy.
The U.S. Urological Devices Market 2014 report, published in November 2014, analyzes and evaluates the current state of the market including existing and potential markets, product average selling prices, and unit volumes. It also assesses benign prostatic hyperplasia treatments, kidney stones management, nephrostomy, urodynamic, urinary incontinence and erectile dysfunction management. This report pertains to a forecast period of 10 years (2010 – 2020) for the U.S.
The concern is that once a hospital acquires surgical equipment for the enlarged prostate reduction, it may be overused. It is worrying that these surgical procedures are increasingly performed on younger men. For instance, the article in the JAMA, 'Use of Advanced Treatment Technologies Among Men at Low Risk of Dying From Prostate Cancer,' published on January 2013, says, 'Robotic prostatectomy use was more common among younger men, while those undergoing observation tended to have low-risk disease. Among men diagnosed with prostate cancer between 2004 and 2009 who had low-risk disease, high risk of noncancer mortality, or both, the use of advanced treatment technologies has increased.' Many patients have shared their grief over possibly avoidable BPH surgeries.
The SteadyHealth.com men's forum was updated with a comment by a 49-year-old man on November 1, 2014. He wrote: "My procedure was performed March 30. Like some other posters, the urologist who performed the procedure gave me little information on what I could expect post op. I also made the mistake of believing the wildly optimistic claims in the pamphlets. The procedure was performed in a local hospital on an outpatient basis. My whole groin area has been very painful since the procedure; however, I must point out that I had pelvic pain issues previous to the surgery. The surgery seems to have amplified these symptoms."
Contrary to BPH surgeries, the therapeutic Dr. Allen's Device improves the condition of the prostate gland naturally. The treatment works by enhancing blood circulation in the prostate locally via optimal temperature control. Here you can watch a short informative video: http://youtu.be/V5xidswhxJM showing a user of Dr Allen's Device, who shrank his hugely enlarged prostate, weighting about 130 grams, to 37 grams within 2 years.
"Thermobalancing therapy is an essential enlarged prostate treatment," comments Dr. Simon Allen. "At Fine Treatment, we focus on gentle and effective healing, and on preserving overall health and well-being of our customers. The therapeutic Dr. Allen's Device should be used as soon as BPH is diagnosed as it can terminate prostate enlargement ultimately protecting men from surgeries and their irreversible side effects."
For details, please visit Fine Treatment at http://finetreatment.com/bph-treatment-prostate-enlargement.
About Dr. Simon Allen and Fine Treatment:
Dr. Simon Allen, MD, PhD, Academician, member of the ATA, is a highly experienced medical professional specializing in internal medicine. He has treated a wide range of chronic diseases, including patients after a heart attack, with kidneys problems, including kidney stones disease, prostate and spine conditions, as well as metabolic disorders.
Fine Treatment ensures international availability of Dr. Allen's Devices for the treatment of chronic prostatitis and benign prostatic hyperplasia or hypertrophy (BPH), coronary heart disease, for dissolving kidney stones, easing chronic headaches, relieving upper spine tension, lower back pain and sciatica.