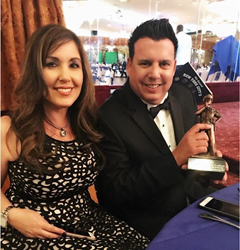 My real passion is in having sincere and abiding compassion for those suffering from not only addiction but the underlying issues.
Boca Raton, Florida (PRWEB) April 26, 2017
The Law Enforcement Employees Benevolent Association, President Kenneth Wynder and Board presented Mr. Scott Frankel, CEO Treatment Partners of America with its Humanitarian Award.
This award honors individuals whose broad vision and leadership address the challenging problems that our first responder community faces today. The need of our members in NYC are not being met appropriately but we have partnered with an organization and person that is not here to point a finger but get the help needed to keep the individual "On The Job."
Scott Frankel is the Chief Executive Officer of Treatment Partners of America. Located in South Florida, Treatment Partners of America has been carefully, thoughtfully, and uniquely designed to relieve men and women suffering from alcohol/drug addictions.
Scott's diverse background includes degrees in Hypnotherapy and Polygraph Science. He is also a World Champion Equestrian and has spent decades as a professional drummer in the music industry. His worldwide tours and experiences provided him with a window to the destructive diseases of alcoholism and addiction. He spent years seeing friends and loved ones struggle with drug and alcohol abuse, destroying their lives and the lives of those they loved. After losing several of those friends altogether- he became compelled to help people find a way out.
As he explains, "My real passion is in having sincere and abiding compassion for those suffering from not only addiction but the underlying issues – the causes and conditions – that keep addicts trapped in and drive their addictions."
Scott has committed himself to helping others find alternative methods to not only cope with life, but enjoy it once again. He plans on helping as many individuals as possible- and hopes to achieve this by expanding his treatment facilities nationally and internationally within the next few years.
"Working in recovery has allowed me to help others free themselves from the shackles of addiction. It doesn't happen overnight, but for those willing to try another approach-a new life- a more peaceful life- the life you dream of- awaits."
Scott has built other facilities from the ground up but Treatment Partners of America has exceeded all expectations holding the standard to a higher caliber with a new approach to treatment including "one on one" therapy five days a week for each client. Scott has also implemented a worldwide video podcast weekly from the Treatment Partners of America studios
"What Scott has done for us as first responders has been remarkable. His 2 questions has always been where and when. None of our first responders have felt unwanted and alone because Scott and Treatment Partners of America are always ready to help." Kenneth Wynder, President of The Law Enforcement Employees Benevolent Association.
This years "Sold Out" LEEBA Dinner was held in The Astoria World Manor in NYC. Scott received his Recognition alongside, U.S. Congress member Adriano Espailliat, NYC Chair of Public Safety Vanessa Gibson.
For more information contact:
Clark Pena
CP Communications and Public Relations
1-917-710-1467