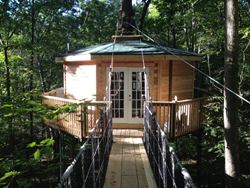 Now you can stay in a deluxe Tree House on your West Virginia getaway near the New River Gorge!
Hico, West Virginia (PRWEB) September 17, 2015
Sleep up in the trees at this new deluxe tree house. The brand new Holly Rock Tree House at Country Road Cabins provides a unique lodging option only minutes north of the New River Gorge area. With a 75-foot chestnut oak tree at the center of the tree house, the Holly Rock Tree House is anchored 15 feet up in the air. The tree house features a complete wraparound deck to take in the best views of the lush Appalachian forest. Guests access the tree house via a 37-foot cable bridge from the nearby hillside.
This beautiful, octagonal wooden tree house includes double French-door entry, expansive windows, private bathroom with hot shower, ultra high inverter heating/cooling system, large-screen TV, DVD player, queen bed, kitchenette facilities and all linens. Expansive windows and the wraparound deck bring nature up close and personal while guests relax and listen to nature's soundtrack. It's an unusual way to experience the beauty of fall foliage from within the tree canopy. The Holly Rock Tree House is just minutes away from national and state recreation areas including New River Gorge, Gauley River National Recreation Area, Summersville Lake, Babcock State Park, and Hawks Nest State Park.
"We're so excited to add a deluxe tree house cabin to our log cabin and yurt accommodations," says Country Road Cabins owner Jennifer Breuer. Jennifer and husband Paul are long-time residents of West Virginia and avid outdoor enthusiasts. "There's really no better place to play outdoors than southern West Virginia," says Paul. Nearby adventures and activities include the best of the New River Gorge area, from whitewater rafting and ziplining to hiking, mountain biking, rappelling and rock climbing, motorcycle touring, fishing, etc. The tree house is located 10 minutes from the famous New River Gorge Bridge, a work of structural art and the longest steel span in the western hemisphere and the third highest in the United States.
Now through April 1, 2016, enjoy an introductory 15% discount off bookings on any 2-night stay. Country Road Cabins also has 18 private cabins and a Love Shack yurt nearby.
Media are cordially invited to the Holly Rock Tree House Opening on October 6, from 11am to 3pm in Hico, West Virginia for tree house tours. Refreshments will be served.
Visit our online media library for tree house images and maps.
For more information, contact us at 888-712-2246 or visit Country Road Cabins at wvcabins.com [http://wvcabins.com/site/cabins-and-rates/tree-house.html__title__ Country Road Cabins]
About Country Road Cabins
Country Road Cabins is open year round with 18 deluxe log cabins with private hot tubs, one wooden wilderness yurt with a private hot tub, and its new Holly Rock Tree House on over 80 acres near the New River Gorge, West Virginia. Vacationers at Country Road Cabins get one-stop planning for outdoor adventure and recreation with nearby zipline canopy tours, world class white water rafting on the New and Gauley Rivers, hiking, fishing, ATVing, motorcycle touring, arts & craft tours, and Winter Place ski area. Founded by river runners Paul & Jennifer Breuer, Country Road Cabins has been serving up comfortable, affordable West Virginia getaways since 1996.