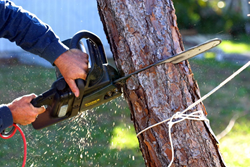 Dead or damaged trees can quickly turn into a serious threat for owners and their property.
Everett, WA (PRWEB) April 28, 2015
Dead or damaged trees can quickly turn into a serious threat for owners and their property. In many cases, tree removal by a skilled team is recommended as the safest and most efficient way to eliminate the threat.
In their latest article, Precision Tree Services outlines the various types of tree removal available to property owners today. Each method requires skill and expertise that Precision Tree Services can provide for a job well done.
The article states that, "Tree removal is not "one size fits all" as there are multiple ways to remove a tree depending on the tree and circumstances."
One of the first methods of tree removal is a simple Take Down procedure. The article describes this method as one of the more inexpensive forms of tree removal. Unlike other forms of tree removal, the Take Down procedure does not include clean up, and firewood cutting must be agreed upon during the proposal.
The most difficult of all forms of tree removal is the Close Quarters removal. When a tree is surrounded by other obstacles or buildings, tree removal services must introduce rope work and rigging to avoid damage to these surrounding obstacles. Precision Tree Services' team of experts work to safely and efficiently remove the tree, and include standard clean up and firewood cutting.
Failing to remove aged or dead trees can result in property damage and unsafe environments. The article states that, "Hazardous trees can cause many problems including falling limbs, cracking during wind or storms, and they can ultimately cause damage to property if the limbs or tree were to fall." To protect themselves from this, homeowners and property owners are encouraged to pursue specialized tree removal through Precision Tree services. For more information, visit their website at http://precisiontreeservicewa.com/tree-removal/.
About Precision Tree Services:
Precision Tree Services is a family-run business that expands throughout Whatcom and the Snohomish County area. They provide a full range of tree services, including tree removal, tree pruning, shrub and bush pruning, hedge trimming, stump grinding, crown reduction, crown raising, tree cabling, and more. All of our services are conducted by fully-trained tree experts or ISA certified arborists. Contact our office to schedule a tree service.
14715 Smokey Point Blvd
Marysville, Washington 98271
Phone: (888) 277-2334
Email: precisiontree@hotmail.com