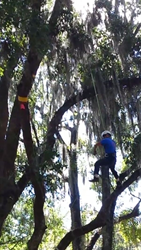 Mary Esther, Florida (PRWEB) November 14, 2014
Arborists Rob Calley and Travis Morales competed in the Florida Tree Climbing Championships (FTCC) on Oct. 25 at Meyers Park in Tallahassee, FL. This event, put on by The Florida Chapter of The International Society of Arboriculture, brings the best and brightest climbing arborists from around the state together to battle for one slot in the International Tree Climbing Championships (ITCC).
The events that Calley and Morales competed in were the throwline, aerial rescue, secured footlock, belayed speed climb and the work climb. Throwline tests the ability of a climber to set a climbing rope high in a tree. Aerial rescue puts the climber in a simulated emergency with an "injured climber" stuck in the tree. He must take charge of the scene, check for hazards, get EMS notified, ascend to the victim, and then bring him down safely. Secured footlock is a test of raw strength and technique as the climber ascends 50 feet by the footlock climbing method. Belayed speed climb is another all out effort to ring three bells located in a tree as fast as possible. The work climb is the premier event that tests a climber's ability to work five stations high in the canopy of a tree.
"This was one of the most challenging things I have ever done, both mentally and physically," said Calley. " We didn't win this time, but we competed hard, made great friends who have a passion for climbing safety, and are training now to compete in Mobile, Alabama in March."
About the company:
Backridge Tree Service, Inc. is a specialty tree company serving residential, commercial and municipal customers in the Florida panhandle. The company was founded in 1998. Backridge Tree Service concentrates on tree pruning and trimming, tree preservation, and tree removal, but they also provide stump grinding, tree installation, tree health care, and any other tree-related needs. All of their tree pruning and tree removal jobs are supervised by their professional arborists. They currently have three full-time ISA Certified Arborists on staff, Rob Calley, Travis Morales, and David Whitley. For more information about Backridge Tree Service, contact the company today by calling 850-939-8533 or visit their website at http://www.backridgetreeservice.com/.