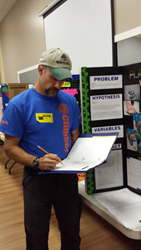 Mary Esther, Florida (PRWEB) December 16, 2014
Public service is very important to Backridge Tree Service, and giving back to the community is part of their business model. Certified Arborist and Backridge Tree Service President Rob Calley carried on that tradition by volunteering at a local middle school as a science fair judge on Tuesday, Dec. 9.
Calley judged plant science for sixth, seventh and eighth graders.
"These kids have really put in a great effort and their projects are a pleasure to judge," said Calley. "You can really appreciate how much hard work they put in."
Certified Arborist Travis Morales is also contributing to the local community. He has been invited by North American Training Solutions (NATS) to teach at a three-day climbing/safety course in Orlando on Dec. 10, 11 and 12.
NATS is one of the leading arboricultural training groups in the nation and only a very select, handpicked few get the opportunity to work for them. Morales' selection reflects great credit upon him, Backridge Tree Service, and the greater Fort Walton Beach area.
"I am so incredibly proud of Travis," said Calley. "He has worked his tail off for years, and to be recognized by such a renowned outfit like NATS is beyond words."
About the company: Backridge Tree Service, Inc. is a specialty tree company serving residential, commercial and municipal customers in the Florida panhandle. The company was founded in 1998. Backridge Tree Service concentrates on tree pruning and trimming, tree preservation, and tree removal, but they also provide stump grinding, tree installation, tree health care, and any other tree-related needs. All of their tree pruning and tree removal jobs are supervised by their professional arborists. They currently have three full-time ISA Certified Arborists on staff, Rob Calley, Travis Morales, and David Whitley. For more information about Backridge Tree Service, contact the company today by calling 850-939-8533 or visit their website at http://www.backridgetreeservice.com/.