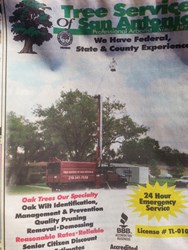 San Antonio, TX (PRWEB) January 31, 2014
2014 marks the 41st year in business for Tree Service of San Antonio. They have served the greater San Antonio area as professional arborists since 1973.
Tree Service is a long-time member of the International Society of Arboriculture, and offers reasonable prices, free estimates and emergency tree services. Some other services they offer include quality pruning, tree and stump removal. Their specialty is oak trees. They have the knowledge to care for and manage oak trees on any property, with services including wilt inspection, identification, management, prevention, removal, pruning and demossing.
There are approximately 600 known species of oak trees, and the blackjack, bur, Durand, live, post, red, Spanish, water and willow species are native to Texas. There are molds and funguses that can kill oak trees, some in only a few weeks, so it is important to place their care in a company like Tree Service of San Antonio that has specialized in these trees.
Tree Service of San Antonio is located at 339 Altgelt St. in San Antonio. They are fully insured and always offers high-quality service to their customers. They also offer senior customers a discount. Hours of operation are from 8 a.m. to 5 p.m. Monday through Friday, and also for emergency services. For more information, please visit their website, or call 210-263-3907.
About the Company:
Tree Service of San Antonio is a member of the International Society of Arboriculture. Having been in business for 41 years, they offer the most credible, reliable, and satisfying services ranging from removing trees, an emergent or urgent service needed, specializing in oak tree, demossing, and much more. On top of that, their rates are very reasonable. They offer free estimates. Their tree arborists believe in getting the job done right. Visit their Facebook page, Google+ page, follow them on Twitter, or look them up on Foursquare. Visit the website at http://www.treecaresanantoniotx.com/ for more information, email with any questions, or call.