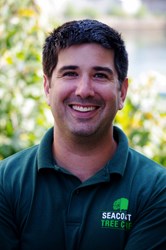 We put our trust in our marketing firm, and I knew we had done well with representing our story, but this just blows me away.
Stratham, NH (PRWEB) February 05, 2014
Seacoast Tree Care, the premier tree service company serving the Seacoast regions of New Hampshire, northern Massachusetts and southern Maine, dominated the small company division in the annual awards ceremony from the Tree Care Industry Association (TCIA), winning all categories in the prestigious competition.
Seacoast Tree Care's continued marketing campaign bested competition from over 100 other submissions for the 2013 Professional Communications Awards. Entries were judged based on overall appearance, content quality, adherence to ANSI and OSHA standards, and success in achieving the company's marketing and communications goals. The categories included: Newsletters/Brochures; Flyers/Ads/Postcards; Websites; Digital/Social Media; and Special Entry.
"We're really honored to be recognized like this," stated Daniel Mello, owner of Seacoast Tree Care. "We've worked hard over the past year to create branding and communications that effectively represent the passion we have for our work. We put our trust in our marketing firm, and I knew we had done well with representing our story, but this just blows me away."
The marketing firm they enlisted is Harbour Light Strategic Marketing of Portsmouth, NH. "We built a strategy when we first started working with Seacoast Tree Care and we've stuck with it," stated Ned Savoie, Creative Director at Harbour Light. "Dan and his crew are passionate about what they do, and my team is passionate about what we do. I guess it shows."
The submissions for the categories included their quarterly newsletter, a series of direct mail postcards, the Seacoast Tree Care website, a video that portrays their commitment to tree care, and a dimensional mailer targeted at high quality prospects.
About Seacoast Tree Care
Led by a certified arborist and staffed with a team of college educated professionals, Seacoast Tree Care is recognized as the Seacoast's leading full­service tree care provider. Expert prevention and maintenance of all tree and shrub species has created an unsurpassed reputation with discerning homeowners, commercial clients and landscaping professionals. http://www.seacoasttreecare.com
About the Tree Care Industry Association
Founded in 1938, TCIA is a public and professional resource on trees and arboriculture. It has more than 2,000 member companies who recognize stringent safety and performance standards and who are required to carry liability insurance. TCIA also has the nation's only Accreditation program that helps consumers find tree care companies that adhere to industry standards for quality and safety; maintain trained, professional staff; and are dedicated to ethical and professional business practices. With access to the latest and best safety standards and training, the typical TCIA member company has 50% fewer accidents than a typical non­member.