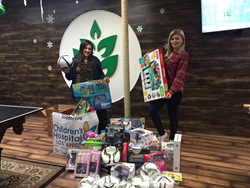 "Treeium's wonderful contribution and commitment to the children we serve reminded us that the spirit and magic of the season can thrive, not only during this special time, but all year long as well." Rosby Lamm, CHLA Volunteer Resources Manager said.
Los Angeles, CA (PRWEB) December 28, 2016
Treeium, an eco-remodeling company included among the 100 fastest growing companies in Los Angeles County for the second year in a row, generously gave with purpose this season. In partnering with Children's Hospital Los Angeles (CHLA) they sought ways to brighten the spirit of patients and families who have to spend many long days in the hospital. Treeium consciously aligned with their eco principles by generously donating fair-trade no-child labor manufactured soccer balls for the children to enjoy.
Children's Hospital Los Angeles provides the highest quality healthcare for children in the region and beyond. As the first and largest pediatric hospital in Southern California, CHLA relies on the generosity of philanthropists in the community to support patient care, leading-edge education of the caregivers of tomorrow and innovative research efforts that impact children at CHLA and all around the world. Treeium was delighted to give to their preferred cause. As a general contracting company specializing in green home remodeling, Treeium believes that change starts from the inside out. By sustainably providing hours of fun and laughter to children and families of CHLA ,Treeium echoed their belief - all needs can have a green solution.
Moty Ginsburg, CEO of Treeium was delighted to provide a sustainable gift to the children and families of CHLA. He stated, "Home is where the heart is, I was so happy to help these families feel a sense of home and joy during this time of year". Rosby Lamm, Children's Hospital Volunteer Resources Manager wholeheartedly thanked Treeium for donating fair-trade no-child labor manufactured soccer balls to Children's Hospital Los Angeles. Rosby noted, "Treeium's wonderful contribution and commitment to the children we serve reminded us that the spirit and magic of the season can thrive, not only during this special time, but all year long as well."
Treeium consciously donates to important causes every year. They also offer remodeling services that help customers create their dream homes in an efficient, sustainable and healthy way for both families and the planet. Treeium's goal is that when they change something, they improve it. They believe positive change needs to be in harmony with our health, with nature and our future. They prove they are making a change for the better in all they do. Find out more information about Treeium at: treeium.com