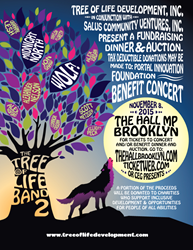 (PRWEB) September 30, 2015
Tree of Life Development Inc. in conjunction with Salus Community Ventures, Inc. Present: A Fundraising Concert for the benefit of Portal Innovation Foundation. This event includes 3 separate portions: an auction, a dinner and charity concert featuring the music of Alexander Nelson, solo and with friends, Wolf! with featuring Scott Metzger and friends, Midnight North featuring Graham Lesh and friends followed by the Tree of Life Band. Featured musicians include Grahame Lesh, Alex Koford, Conner Croonn, Taylor Floreth, Alex Jordon, Elliot Peck, Jon Shaw and Scott Metzger.
The cost for all 3 portions of the evening Dinner/Auction/Concert Ticket is $250 (5PM). The Dinner/Auction ticket (5PM-8PM) is $200. The Dinner Table ticket (10 Seats-1 full table) is $2000. The concert ticket is $65 and that portion of the evening starts at 8 PM. A portion of the proceeds will be donated to Portal Innovation Foundation.
Portal Innovation Foundation is a not for profit which creates/provides housing and employment opportunities for adults with developmental disabilities.
Staffing and ticket sales are generously donated by CEG Presents. For tickets and information please contact Rob Rosman at Tree of Life Development 646.448.5278 or buy tickets online.