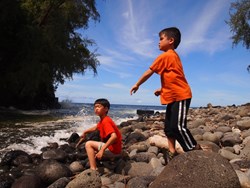 Trekaroo staff writers set out to debunk family travel myths.
Pacifica, CA (PRWEB) October 24, 2013
Everyone knows what makes a travel destination or resort family-friendly…or do they? For the 2014 travel year, Trekaroo staff writers set out to debunk family travel myths and open parents' eyes to less-traveled destinations ripe for family memories. Sure, a theme park is kid-friendly. But so is a rugged northern coastline. A tropical beach is a home run. But a Western ranch could be even better.
Trekaroo.com queried their own well-traveled staff to compile the Top Treks series, a round-up of family-friendly vacation experiences in the US and worldwide that go beyond the tried-and-true. Plucked from their own family travel plans, Top Treks destinations range from South Dakota to Quebec, Mexico to Singapore, with accommodations ranging from campground sites to five-star rooms. The end result: a fresh "it" list for family travel.
Five family travel destinations parents may not have considered for 2014:
Sonoma County, CA: Not just for wine enthusiasts
Long-considered a destination for couples seeking wine tastings and retreats, Sonoma County's beauty and tranquility can be enjoyed by kids, too. Families who enjoy the outdoors at a slower pace will appreciate Sonoma's laid back feel and rolling countryside. Families can fill a Sonoma County vacation canoeing on the Russian River, hiking through redwood forests, or attending kid-friendly festivals and farmers' markets. Young kids love riding a miniature train at Traintown, and don't worry adults: there's time to sample Sonoma County wines.
Best for: families seeking both sophistication and outdoor fun
Acadia National Park, ME: More than just lobster rolls
Tucked away along the Maine coast, families who love the ocean often overlook idyllic Acadia National Park. Kids love biking along the park's signature carriage trails through backwoods, and tide pools beckon at the nearby seashore. Families can end each day with a lobster dinner at a casual picnic table, or ruin their appetites entirely with the famous pop-overs from Jordan's Pond House.
Best for: families who enjoy charming towns, salt air, and a laid back vacation
Black Hills, SD: Not just a quick road-trip stop
Road trip warriors at attention! There's so much for families to do in South Dakota's Black Hills, parents will need to hit the brakes for several days to enjoy it all. Kids who dig history and nature will enjoy a pit stop at iconic Wall Drug and a day with American history at Custer State Park. The emphasis on the outdoors will jive with national park fans.
Best for: families who enjoy quirky fun, history, and road trips.
Santa Fe, NM: More than an artist community
Think Santa Fe is only for painters, potters, and foodies? Think again! Families who seek culture and adventure on vacation will find themselves surrounded by national forest and galleries. This resort town high in the Tesuque Valley is home to kid-friendly hikes, horseback rides, and even clay shooting. Kids enjoy the Santa Fe Children's Museum, and Albuquerque is only an hour's drive away, where families can take in the annual balloon festival.
Best for: families who enjoy cross-cultural experiences, art, and cool festivals
Vancouver Island, BC: Not just for backpackers
An easy ferry ride from the city of Vancouver, Vancouver Island has a little bit of everything for families: beachside fun in Parksville, luxury and high tea in Victoria, and outdoor adventure and wildlife viewing on the rugged west coast. Kids who crave excitment on vacation can sea kayak with family-friendly outfitters, whale watch from small zodiac boats, and hike amid bald eagles. Tide pool viewing on Vancouver Island cannot be beat, and families can even learn to surf in the cold waters.
Best for: families who love a mixture of high excitement, luxury, and the outdoors
Discover all the Top Treks destinations on Trekaroo, plus specific Top Treks resort and hotel picks around the world. Already have a destination in mind? Peruse Trekaroo's attraction, hotel, and dining reviews to find parent-approved offerings in the region.
Trekaroo is the fun way to get the inside scoop on everyday travel with kids. With thousands of kid-friendly activities, hotels, and restaurants, Trekaroo unearths delightful discoveries near and far. Connect with additional travel-savvy families on Trekaroo.com.