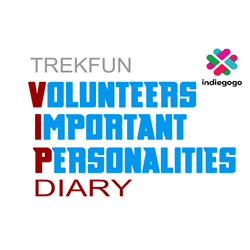 thousands of international volunteers travel abroad in foreign countries to donate their time and attention where it is truly needed. These people work selflessly, asking nothing in return
Los Angeles, CA (PRWEB) September 02, 2014
Trekfun VIP Diary (Trekfun - Volunteers Important Personality - Diary) is about bringing acknowledgement and reward to the unrecognized men and women who volunteer their time and skills. The team behind the project works to create international events at select spots around the world where volunteers can gather, socialize, and be celebrated for all their hard work. The proposed online platform is a developing hub for sharing information about events, adventures, and personal tales from a global community of nomadic volunteers.
Trekfun was created by Royal Dazzle Multimedia company which specializes in special event and video production. The company started Trekfun to expand its multimedia work to serve the voluntary sector, and to call attention to those who give up so much at the same as celebrating volunteer's efforts.
"The project is also a great way for those who wish to volunteer but lack the means to travel to get involved with their passion," says the team. To bring the project to fruition, Royal Dazzle Multimedia is launching a crowdfunding campaign on Indiegogo.
The purpose of the crowdfunding campaign is to raise enough money to put on the various events we have been planning for a long time. "The number and grandiosity of meetings we will be able to put on depends on how much money we are able to raise," says the team. All events will be recorded and released as HD DVD documentaries by Royal Dazzle Multimedia company, so the memory of the event will live on long after it is over.
All around the world, thousands of international volunteers travel abroad in foreign countries to donate their time and attention where it is truly needed. These people work selflessly, asking nothing in return except the worthwhile nature of such a meaningfully humanitarian experience. Most of them will pay for all their own accommodation and expenses for months at a time so that they may contribute their talents to those in need.
With the support of the public, Royal Dazzle Multimedia is confident that it can help "bring a smile to the faces of those who sacrifice for the good of others" and encourage volunteering the world over. Additionally, 10% of the money raised up to $25,000 and 5% donated up to $100,000 will be donated to Charity School Arusha to support the funding of various educational materials for children.
Readers interested in supporting the campaign can visit http://www.indiegogo.com/projects/914725/fblk