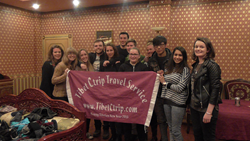 Tibet trekking is never that hard with local Tibet travel agency's support! Contact www.tibetCtrip.com now!
Lhasa, Tibet (PRWEB) March 12, 2015
Tibet trekking (http://www.tibetctrip.com/tibet-trekking-adventures.html) is quickly becoming popular amongst travelers this year. Taking a tour of Tibet provides endless opportunities for unique cultural experiences and getting in touch with some of Earth's most astounding high-altitude scenery; a trekking adventure is among the best ways to experience it. Tibet Ctrip Travel Service-TCTS (http://www.tibetctrip.com) wants to ensure visitors get the most out of their visit and discusses what savvy travelers should look for in a tour operator.
Many outdoor enthusiasts have everything they need for a multi-day trek however traveling internationally with pricey gear is a risky proposition. Be sure to work with a tour operator that can provide things like sleeping bags, tents, and cooking equipment. Typically yaks are rented to carry gear or in some cases vehicle support is available, so don't worry about needing to carry a heavy backpack.
Trekking in Tibet can place heavy demands on travelers' bodies. While the terrain on most popular routes isn't so bad, it's the altitude that proves challenging. Make sure the tour package includes calorie packed meals, nutritious snacks, and lots of water for the trekking route. Aside from keeping in shape before the trek, starts staying well nourished and hydrated is the best way to battle the altitude.
While the scenery is unparalleled, don't miss out on learning about local culture. Most tour operators will package in a site seeing tour of Lhasa and stops along the way to the trekking route. Not only does this give an introduction to Tibetan culture and history but it also gives the travel group extra time to acclimatize to the altitude.
A Tibet trekking tour that includes equipment, good food, and an experienced native Tibetan guide is critical to getting the most out of the journey. Travelers will be able to push themselves hard on the trail then relax at the end of the day while their guide and support staff take care of camp. The combination of culture and time with nature is truly rewarding and is the reason why so many travelers are making the trip. The 2015 travel season is right around the corner so now is the time to start planning.
Travel agency TCTS is based in Lhasa and has many years service experience for trekkers.