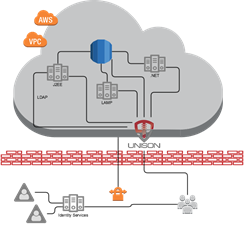 Fewer hurdles to getting applications deployed means a faster return on investment.
Arlington, VA (PRWEB) February 25, 2015
The benefits to using Amazon Web Services (AWS) for enterprise applications can be tempered by the cost of identity integration. While AWS provides application services for identity management, enterprises may already have a central identity service that is built around both security and compliance. Tremolo Security's Unison, now available in the AWS Marketplace, cuts the integration time from weeks to minutes, thereby getting more out of an enterprise's existing services without replicating infrastructure.
In a blog post announcing Unison's availability in the AWS Marketplace, CTO Marc Boorshtein says, "Using Unison with AWS provides more then just an SSO system for applications hosted in AWS, it lets applications leverage AWS services for transparent identity integration." This integration makes Unison unique in its ability to leverage both enterprise services and AWS services transparently. Applications don't need to be recoded or reengineered to run on AWS and will continue to have the compliance auditors require and experience that users expect.
By making Unison available on the AWS Marketplace, Tremolo Security has made Unison easier to deploy, eliminating the need to install software. The blog post points out that Unison is pre-configured with common firewall rules and minimum services to make applications easier to deploy and secure. Unison is available with a 60 day trial license.
About Tremolo Security
Tremolo Security produces software focused on providing applications the identity data they need without recoding or reengineering. Our founders have over twenty years of experience in identity management and IT security.
For More Information, contact:
Marc Boorshtein
CTO
Tremolo Security
4201 Wilson Blvd #110-204
Arlington, VA 22306
(703)-828-4902