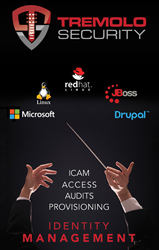 "OpenUnison can bring your clouds, applications and platforms together into one seamless system" - Marc Boorshtein, CTO Tremolo Security
BOSTON, MA (PRWEB) June 23, 2015
Enterprises have realized the benefits of open source software for decades. Open source technologies like Linux, WildFly, and others have formed the foundation of many cloud infrastructures and deployments. "Open source is an important eco-system of projects and ideas and is often the first place that developers look when given a task or problem to solve," says Marc Boorshtein, CTO of Tremolo Security. He continues, "For this reason we're proud to be joining the open source eco-system with OpenUnison."
In a blog post announcing OpenUnison's availability Marc says, "OpenUnison combines web access management, authentication, provisioning and identity virtualization in a single system that can be deployed onto any J2EE container." OpenUnison's integration of these services provides a lightweight service that can be deployed in a fraction of the time of other solutions using either an on-site enterprise data center, or a cloud container. This versatility lets OpenUnison be the identity management foundation for either an entire enterprise or a single application.
OpenUnison provides the features and functions often required by applications including:
1. Authentication – SAML2, Username and Password, Certificate, Secret Questions, TOTP, One-time-password over SMS, and more
2. User Provisioning – Create and update users in directories, databases, and cloud services
3. Audit Capabilities – Log all provisioning actions to a database to provide reports of who requested access and who approved it
4. Requesting Access – Provide users with a responsive web application for requesting access to services and approval for those services
This application-centric approach to identity management provides the identity services your applications need and your enterprise requires, without burdening the developers or slowing down your timelines for deployment.
To learn more, visit http://openunison.io to download OpenUnison, browse the documentation, and the source. If you are attending Red Hat Summit, visit us at booth #1001.
About Tremolo Security
Tremolo Security produces software focused on providing applications the identity data they need without recoding or reengineering. Our founders have over twenty years of experience in identity management and IT security.
For More Information, contact:
Marc Boorshtein
CTO
Tremolo Security
4201 Wilson Blvd #110-204
Arlington, VA 22306
(703)-828-4902
Red Hat, Red Hat Enterprise Linux and the Shadowman logo are trademarks of Red Hat, Inc., registered in the U.S. and other countries. Linux® is the registered trademark of Linus Torvalds in the U.S. and other countries.