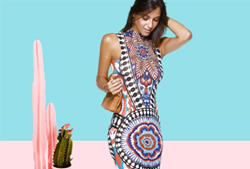 Customers can now price match all competitors at Trendsgal
Shenzhen, China (PRWEB) August 30, 2016
Trendsgal is a globally renowned fashion e-commerce website known for its trendy and contemporary products. The site has gained notoriety for having extremely affordable pricing while keeping the quality of the products on par with any designer brand. With such success more companies are now trying to replicate the success of Trendsgal. With many sites popping up Trendsgal is ready to compete. Today company executives at Trendsgal have announced a new price match program. Instead of buying from new and/or untrustworthy site customers can get the same products price matched at Trendsgal which is reputable and safe.
The new price match function from Trendsgal is easily accessible for all customers. Shoppers simply need to shop as usual, if they come across a product that is cheaper on another site the customer may click the "price match" button on the product info page. From here customers will need to fill in a form that includes a link to the product that is being sold cheaper. Trendsgal has hired special customer service agents to look through each price match request to ensure they are done in a timely manner. Customers will also be asked to include their email so Trendsgal agents can inform the customers by email after the price has been adjusted.
The benefit of the new price match program is that customers are safe from scams. Trendsgal is certified by many different security companies as being safe and secure. By price matching customers will not have to use any third party site to order the same product, keeping their privacy and account numbers safe. Alternatively Trendsgal has more sophisticated logistic options than many competitors, by price matching customers will get their products at the same price, but delivered at a much faster speed than using another website.
Those looking for more products should checkout Trendsgal's sister websites Nastydress and Rosewholesale. Nastydress is more than just dresses, it is a site dedicated to exploring a person's sexuality. There are erotic products for all times of day at Nastydress. Rosewholesale is for those looking for even more discounts. The site offers wholesale prices on premium fashion to the general public. Unlike other wholesalers there is no joining fee to shop at Rosewholesale!
Related link: http://www.trendsgal.com/
Email:support(at)trendsgal.com