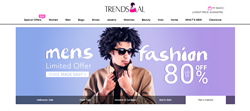 Ecommerce Store Trendsgal Makes Size Selection a No-Brainer for Their Buyers
Shenzhen, China (PRWEB) October 25, 2016
Trendgal is a fast-growing ecommerce brand that is poised for further growth at this moment. While Trendsgal brings together some of the best designers and their creative works under one roof, the owners-cum-developers are currently looking for further growth. In a bid to make their brand more popular, the management has decided to make size selection an easy affair for their patrons. Trendsgal now extends cooperation and assistance to the buyers who face problems choosing the right size for apparel.
Consumers of various ecommerce stores get confused about choosing the right size as not everybody is aware of the meanings of different size tags such as small, medium, XL, XXL etc. To prevent their buyers from buying the wrong size products, Trendsgal management recently announced that they now provide a size chart for each product featured on the e-store. Customers and users on the site are encouraged to check the size chart in case they are not sure about the right size.
The manufacturers added that if a product comes with no size chart, it simply means that only one size for the product is available, which is the medium size in most cases. They also stated that a certain size in a certain country may not be the same across the globe. "For example, the standard medium size in the USA is actually a smaller than medium size in China. Users are advised not to take chances and get accurate measurements for comparing the size measurements available on our e-store. An interested buyer just needs a measuring tape for getting a fair idea of his or her ideal apparel size", one top executive said.
Trendsgal management maintained that they perfectly understand that mistakes may still happen. However, they added that if a customer orders a wrong-sized product, they can offer round-the-clock support for exchange. They said that their online support team can provide the required assistance to their buyers who want to return or exchange the wrong-sized products.
Trendsgal is a sister site of DressLily and Nastydress which are two other distinguished brands. All the ecommerce brands aim at offering quality products at reasonable prices. The owners of Trendsgal said that they encourage their customers to choose the right size.
Related link: http://www.trendsgal.com/
Email: support(at)trendsgal.com