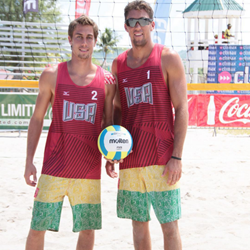 Trevor and Taylor are the future of beach volleyball in the United States. They have what every sports agent wants; performance, good looks and a great story coming from Hawaii to storm the beaches all over the world. - Evan Morgenstein
Cary, NC (PRWEB) October 27, 2015
Premier Management Group (PMG Sports) has announced a new, exclusive partnership with professional beach volleyball players Trevor and Taylor Crabb. PMG Sports will work with the Crabb brothers to create effective, lasting relationships with corporate sponsors and organizations as they continue their rise to the top of the beach volleyball ranks.
The Crabb brothers are coming off their first professional tournament victory at the NORCECA Continental Tour St. Lucia event held from October 14-19. Both Trevor and Taylor played indoor volleyball at Long Beach State University before trading in their sneakers for board shorts and the pro beach volleyball circuit. Hailing from Hawaii, growing up on the beach helped ease the transition into beach volleyball from their college days indoors.
In their first AVP Tour event as partners, Trevor and Taylor played their way to a podium finish at the 2015 Manhattan Beach Open which is widely considered the biggest event on tour each year. The Crabb brothers were electric, gutting out a dramatic 3 set win in bracket play en route to a 3rd place finish.
"Trevor and Taylor are the future of beach volleyball in the United States," said PMG Sports President and CEO Evan Morgenstein. "They have what every sports agent wants; performance, good looks and a great story coming from Hawaii to storm the beaches all over the world."
To discuss potential sponsorship opportunities for Trevor Crabb and Taylor Crabb, please contact Evan Morgenstein at evan(at)pmgsports(dot)com or call (919)459-5426. For media inquiries please contact Matt Uberseder at matt(at)pmgsports(dot)com or call (919)459-5428.
About Premier Management Group (PMG Sports)
Premier Management Group is an elite sports marketing agency with a goal to create a space in the industry that is completely unique through superior creativity and innovation. PMG has set out to provide each of its clients with the same level of professional representation and service. Additionally, PMG is an industry leader in providing corporate consulting services and treats each client, whether an athlete or corporation, with an added personal touch. For more information, visit our website at http://www.pmgsports.com.