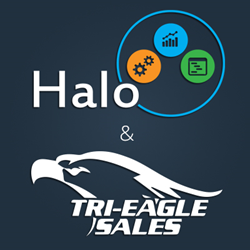 Halo has a huge advantage in being able to warehouse data from any source, whereas route accounting packages limit report writing to sales and inventory history
San Diego, CA (PRWEB) July 20, 2017
Halo announced that Tri-Eagle Sales, an Anheuser-Busch Wholesaler serving north and north-central Florida, has selected Halo as their latest innovation in supply chain analytics. Tri-Eagle evaluated the sales reporting and analytics capabilities of a number of modern Route Accounting Software systems, but ultimately selected Halo for its ability to aggregate disparate data from multiple Route Accounting Software (RAS) systems, native support for multiple devices and ease of use.
For years, the Ocala-based company relied solely on its RAS system and Microsoft Office tools for static sales reporting. But according to Tri-Eagle Sales management, recent rapid growth and an expanding craft beer portfolio were creating "blind spots" in the business. The evaluation team decided that limiting the benefits of business analytics tools to headquarters staff didn't support the company's broader vision, hence the emphasis on pushing information into the field via mobile devices.
"It was clear from our first meeting that Tri-Eagle Sales' management team was ready to deploy a comprehensive Supply Chain Analytics platform that offered greater insights into the entire supply chain. It's rewarding to work with a company that's striving to eliminate data silos and has a clear vision for the operational improvements achievable with Halo," said Keith Peterson, President and CEO, Halo.
In addition to Halo's Mobile Sales Platform, Tri-Eagle Sales will be using Halo Data Warehousing (Halo DW), an innovative data warehouse accelerator and automation platform to maintain its current RAS data. The same data warehousing strategy will be leveraged in case the company decides to include new data sources in the future.
"Halo also has a huge advantage in being able to warehouse data from any source, whereas Route Accounting packages limit report writing to sales and inventory history within the system," said Ken Daley, President, Tri-Eagle Sales.
About Halo
Halo is an analytics software and advisory services provider which offers customers an innovative blend of technology to manage demand forecasts, inventory and supplier relationships. Halo's Advanced Information Hub is a first-of-its kind solution to help companies leverage all their corporate data to generate new insight for competitive advantage. Halo is headquartered in San Diego, California, and can be reached via the web (halobev.com), Twitter (@Halo_BI) or email at info(at)halobi(dot)com