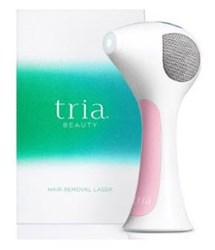 You'll be able to get similar long-lasting results to expensive clinic treatments at a much lower cost and it's ultimately a risk free purchase due to the products 90 day guarantee
West Palm Beach, FL (PRWEB) January 31, 2014
Tria Laser reviews have been flooding the Internet and RequestReviews.com reveals the truth about this product that claims permanent hair removal using the same technology as salon and medical spa laser hair removal systems.
The Tria Laser Hair Removal System provides a solution to the hassles of frequent waxing and shaving. It is designed for people who are unable to afford, find the time or are simply too embarrassed to get laser hair removal treatments done at a salon or medical spa. The Tria device has caught the attention of RequestedReviews.com's Laura O'Connor, prompting an investigative review.
"The Tria is making a buzz in the aesthetics industry by offering a hair removal solution that can be brought into the privacy of the home. Their patented home laser hair removal system is the only one currently approved by the FDA. It utilizes the same diode laser technology that can be found in most professional hair removal clinics," says O'Connor.
In her review, O'Connor gives people a better idea of the features the system has to offer, such as the skin sensor that determines whether or not your skin tone is the correct color to use the device. She also mentions the different energy level settings so users can choose the setting that they feel they can tolerate best.
O'Connor warns readers that the device head is small so it will take a while to treat a larger body part such as an arm or a leg. She also warns people that there is a small degree of discomfort when using the laser and describes the pain as a flick of a small elastic band. In the event of discomfort O'Connor recommends either turning down the device to a lower level or simply applying numbing cream or rubbing some ice over the area prior to treating it.
"I was surprised... This home laser hair removal device is one that I actually recommend," says O'Connor. "You'll be able to get the same long-lasting results as the expensive clinic treatments at a much lower cost and it's ultimately a risk free purchase due to the products 90 day guarantee if you buy it direct from the Tria Beauty website".