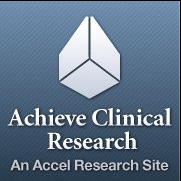 Birmingham, Alabama (PRWEB) December 10, 2013
*To see if you qualify for this Psoriatic Arthritis Clinical Trial in Alabama, visit Achieve Clinical Research on the web (http://www.achieveclinical.com/) or contact us directly at (205) 380-6434. There is no cost to participate, no insurance is required, and you may receive compensation for time and travel.
STUDY DESIGN
This is a phase 3, 6-month, placebo-controlled, parallel group study designed to evaluate the efficacy and safety of an experimental dosage of medication in adult patients with active psoriatic arthritis (PsA) who had an inadequate response in their symptoms to at least one arthritis inhibitor.
A total of approximately 390 subjects will be randomized in a 2:2:1:1 ratio to one of four parallel treatment sequences. Subjects on a stable dose of one traditional DMARD like methotrexate should remain on that dose throughout the study. At the end of Month 6, eligible subjects may enroll in the open-label, long-term extension study.
DURATION OF STUDY PARTICIPATION
Each subject enrolled in this phase 3 study will participate for approximately 6 months following the signing of their informed consent form.
BACKGROUND & RATIONALE
Psoriatic arthritis (PsA) is a chronic inflammatory autoimmune disease characterized by joint inflammation and destruction, psoriatic skin lesions, enthesitis, dactylitis, spondylitis, progressive disability and adverse effects on quality of life. This study will look at the effects of a potent arthritis inhibitor of the Janus Kinase (JAK) family of kinases.
While this inhibitor shows nanomolar potency against all JAK family kinases in enzymatic assays, it shows functional specificity for JAK1 and JAK1/3 over JAK2 in cell-based assays. The broad effects of JAK1/3 inhibition on multiple cytokine pathways provides the rationale for developing this inhibitor as a treatment for PsA.
Efficacy and safety of oral dosing with this inhibitor in Rheumatoid Arthritis (RA) subjects has been demonstrated in Phase 2 and 3 studies and received FDA approval 6 November 2012 for this indication. Efficacy and safety of oral dosing with this inhibitor in subjects with plaque psoriasis has previously been demonstrated in a Phase 2 dose ranging study and is currently being investigated in Phase 3 registration studies.
PRIMARY OBJECTIVES
To compare efficacy of this arthritis inhibitor at doses of 5 mg BID and 10 mg BID versus placebo for treatment of rheumatological signs and symptoms of active psoriatic arthritis (PsA) in subjects who have had an inadequate response in PsA to at least one TNF inhibitor.
To compare physical function status after administration of arthritis drug at doses of 5 mg BID and 10 mg BID versus placebo in subjects with active PsA who have had an inadequate response in PsA to at least one TNF inhibitor.
INCLUSION CRITERIA
Subjects must meet all of the following inclusion criteria to be eligible for enrollment into the study:
-Evidence of a personally signed and dated informed consent document indicating that the subject (or a legal representative) has been informed of all pertinent aspects of the study.
-Subjects who are willing and able to comply with scheduled visits, treatment plan, laboratory tests, and other study procedures.
-The subject has a diagnosis of PsA based upon the CASPAR Criteria for at least 6 months and evidence of active arthritis based upon number of tender/painful and swollen joints.
-Ongoing treatment with a stable dose of a traditional DMARD.
-Subjects must have received at least one approved TNF inhibiting biologic agent that was administered in accordance with its labeling recommendations and was inadequately effective and/or not tolerated:
-An inadequate response to TNF inhibitor treatment due to intolerance is defined as a treatment-related adverse event (eg, infusion/injection reactions, infections, laboratory test changes, etc).
-Subject must be at least 18 years of age or older at the Screening visit.
-No evidence of active or latent or inadequately treated infection with Mycobacterium tuberculosis (TB)
-Subject has discontinued all disallowed concomitant medications for the required time prior to the first dose of study medication and is taking only those concomitant medications in doses and frequency allowed by the protocol. Subjects who are receiving any investigational or marketed treatment for PsA or psoriasis not mentioned elsewhere must have that treatment discontinued for 4 weeks or 5 half lives, whichever is longer.
-Discontinuation criteria for biologics not otherwise mentioned must be discussed with the sponsor.
-Subjects must not be currently taking any TNF inhibitors.
-Subjects who are already taking oral corticosteroids (but not injectable) may participate in the study.
*Achieve Clinical Research conducts Phase II-IV Clinical Trials in Alabama. For more information about participating in an Arthritis Clinical Study, please visit our website or contact us directly at (205) 380-6434.