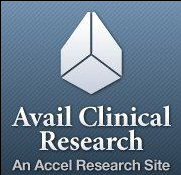 There are only a few treatment options [for fibromyalgia] right now and the response to treatment is far from 100 percent, which implies there are a lot of patients still looking for help to get a better life. - Dr. Mark Plazier
DeLand, Florida (PRWEB) June 30, 2013
*To see if you qualify for this Fibromyalgia Clinical Trial in Florida, visit Avail Clinical Research on the web (http://www.availclinical.com) or contact us directly at (386) 785-2404.
STUDY POPULATION:
Adults with fibromyalgia
DURATION OF STUDY PARTICIPATION:
Up to 78 days from Screening Visit through Follow-Up.
BACKGROUND & RATIONALE:
A brand new drug is being developed for the management of fibromyalgia (FM). Fibromyalgia is a common, chronic, widespread pain disorder that is estimated to impact 0.5% to 5% of the general population worldwide. In the United States, more than 5 million individuals are thought to be affected, and it is the second most common disorder observed by rheumatologists (after osteoarthritis). FM is defined by the American College of Rheumatology (ACR) as a condition characterized by widespread pain and tenderness, and patients with FM report severe fatigue, described as being physically or emotionally draining. Fibromyalgia patients also have significantly more mental distress, including depression, anxiety, and dyscognition, than healthy controls. Women currently account for 80% to 90% of cases diagnosed by ACR criteria.
The standard of care for FM includes both non-pharmacologic (exercise, education, and cognitive-behavioral therapy) and pharmacologic approaches. In the United States, three drugs are currently approved for the treatment of fibromyalgia: the 5-HT and NE reuptake inhibitors, duloxetine (DLX) and milnacipran (MLN), and pregabalin (PGB, a ligand for the alpha2-delta subunit of voltage-gated calcium channels). All three have limited efficacy and tolerability, and there is a need for agents that are both efficacious and offer an acceptable safety profile. Important unmet medical needs in the treatment of FM include greater reduction in tiredness, a symptom of fibromyalgia that affects 80% or more of the FM population, and alleviation of associated cognitive deficits.
OBJECTIVES:
The primary objective of the study is to assess the ability of a new drug to reduce Fibromyalgia pain. Specifically, this will be accomplished by evaluating the safety and efficacy of a 6-week treatment regimen with this new Fibro drug, to a maximum dose of either 5 mg or 20 mg, relative to placebo, in subjects with FM. Efficacy will be assessed on the basis of the baseline-adjusted weekly mean pain score obtained in the last week of treatment, as derived from subjects' daily reports in an electronic diary. Daily pain scores will be reported on an 11-point numeric rating scale (Pain-NRS).
The secondary objective of the study is to assess overall improvement in fibromyalgia following treatment with a new Fibro drug relative to placebo. This will be assessed by:

the Patient Global Impression of Change (PGI-C); and
the Fibromyalgia Impact Questionnaire (FIQ) total score.
The key exploratory objective of the study is to evaluate the efficacy of a new Fibro drug, relative to placebo, on fatigue, or tiredness, as measured on:

the Daily Fatigue Score: Fibromyalgia (DFS-Fibro), a self-reported outcome measure for daily use that was recently developed specifically for the FM population; and
the Multidimensional Assessment of Fatigue (MAF), a weekly assessment of fatigue that has been used in other pharmaceutical trials in FM.
In addition, the study includes a number of other exploratory efficacy endpoints to evaluate the effect of 5 mg and 20 mg of a new Fibro drug, relative to placebo, in subjects with FM, with respect to the following:

Mood, using the Hospital Anxiety and Depression Scale (HADS);
Overall health-related quality of life, using the Medical Outcomes Study Short Form 36 (SF-36) Quality of Life;
Cognitive performance, using the Paced Auditory Serial Addition Test (PASAT) and the Auditory Consonant Trigram (ACT) test;
Perceived cognitive difficulties, using the Multiple Ability Self-Report Questionnaire
(MASQ);

Executive function, using the Barkley Deficits in Executive Functioning Scale-Short Form: Self Report (BDEFS-SF: Self Report) for Adults; and
Sexual function, using the Arizona Sexual Experiences Scale (ASEX)
The pharmacokinetics (PK) of a new Fibro drug in subjects with fibromyalgia will also be studied using population PK methodology.
INCLUSION CRITERIA
1. Subjects must possess a level and degree of understanding of spoken and written language that enables them to communicate effectively with investigator and study coordinator as well as to complete questionnaires. Subject has signed an Institutional Review Board (IRB) or Independent Ethics Committee (EC) approved Informed Consent Form.
2. Subjects must be 18 to 59 years of age, inclusive, at the time of consent.
3. At screening, subjects must meet the diagnostic criteria for FM, as defined by the 1990 ACR Criteria for the classification of fibromyalgia, including:
Widespread aching pain in four quadrants of the body and axial skeleton for greater than or equal to 3 months duration.
Pain is considered widespread when all of the following are present: pain on both sides of the body, pain above and below the waist. In addition, axial skeletal pain (cervical spine, anterior chest, thoracic spine, or low back pain) must be present. Low back pain is considered lower segment pain.
Pain in greater than or equal to 11 of 18 tender points under digital palpation examination with an approximate force of 4 kg/cm2.
4. Subjects must have a score of greater than or equal to 4 on the 11-point Pain-NRS (0 = no pain to 10 = worst possible pain) for pain relating to their FM at the initial Screening Visit.
5. Subject must be willing and able to comply with all the testing and requirements defined in this protocol, as well as the restrictions and directions of the investigational site staff.
6. Subjects must not initiate concomitant therapy during the course of the study and are not to have been receiving excluded medications.
7. Subjects must agree not to initiate use of sleep-promoting medications, such as benzodiazepines, antihistamines, or melatonin agonists, during the course of the study. However, if the subject has been using such medications, excluding sedating antihistamines and benzodiazepines, in a stable, routine manner on a scheduled basis (e.g., nightly, or every other night) before Screening (greater than or equal to 30 days), the subject may be enrolled, provided that he or she is willing to maintain the sleep aid at its stable, pre-existing dosage for the duration of the study.
8. Subjects must be willing to discontinue treatment with transcutaneous electrical nerve stimulation and anesthetic or narcotic patches, beginning at least 1 day before the Run-in Visit.
9. Subjects must agree to continue all pre-existing (greater than or equal to 30 days before Screening) nutritional and/or exercise regimens and/or behavioral, massage, acupuncture, physical or cognitive therapies on an unchanged, consistent, and regular schedule throughout the study. Subjects should not initiate these treatments within 30 days before Screening Visit or during the study.
10. Subjects must agree to use only acetaminophen (less than or equal to 3,000 mg/day) as rescue pain medication or as stable use, as defined under Concomitant Medications, or nonsteroidal antiinflammatory drugs (NSAIDs, e.g., ibuprofen, naproxen, but not indomethacin) as rescue pain medication only, as defined under Concomitant Medications.
11. For women of childbearing potential, documentation of a negative serum pregnancy test at Screening and a negative urine pregnancy test on Day 1 (to be maintained negative through follow up urine pregnancy tests on Days 8, 15, and 29). If a urine pregnancy test is positive, it must be confirmed via a serum pregnancy test. All female subjects of childbearing potential must use a highly effective method of birth control during the study and for at least 1 month after completion of study drug dosing.
A highly effective method of birth control is defined as one that results in a low failure diaphragm, condom + spermicide, diaphragm + spermicide, or intrauterine device [IUD] with documented failure rate of less than 1% per year, or oral/injectable/implanted hormonal contraceptives used in combination with an additional barrier method.
Women are considered to be not of childbearing potential if they have had a total hysterectomy or bilateral tubal ligation (documentation for either must be provided before enrollment) or are at least 2 years postmenopausal. Female subjects cannot be breast-feeding.
12. All male subjects must agree to use a highly effective method of birth control with partners of childbearing potential during the study and for 1 month after study dosing.
13. Subjects who are smokers must be willing to maintain a stable smoking habit throughout the study.
14. Subjects must agree that they will not alter their regular caffeine consumption throughout the study.
15. Subjects must demonstrate compliance with completion of the daily diary for greater than or equal to 5 of 7 days per week at the end of the placebo Run-in Period.
16. Subjects must have a 1-week mean pain
*Avail Clinical Research conducts Clinical Research Trials in Florida. For more information about participating in a Fibromyalgia Clinical Study, please visit our website or contact us directly at (386) 785-2404.