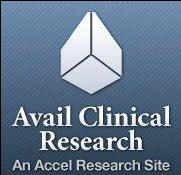 DeLand, Florida (PRWEB) December 10, 2013
*To see if you qualify for this Hemorrhoids Clinical Trial in Florida, visit Avail Clinical Research on the web (http://www.availclinical.com) or contact us directly at (386) 785-2404. There is no cost to participate, no insurance is required, and you may receive compensation for time and travel.
Study Design
This Phase II exploratory study will be the first double-blind, placebo-controlled study to evaluate the efficacy and safety of this advanced form of rectal suppositories.The results of this study will be used as appropriate to design and calculate subject numbers for a larger Phase III study if needed. This study has been designed based on the discussions at the Pre-IND meeting and a number of similar studies for the treatment of hemorrhoids.
Duration of Study Participation
Each subject will participate in the study for approximately 31 days from the time the subject signs the informed consent form (ICF) through the final contact.
Background & Rationale
This type of rectal suppository has been an available product on the US market for over 50 years. They are dispensed by prescription for use in inflamed hemorrhoids, post-irradiation (factitial) proctitis; pruritus ani and as an adjunct in the treatment of chronic ulcerative colitis; cryptitis; and other conditions like inflammatory bowel syndrome (IBS) and Crohn's disease. They are currently available by prescription as an unapproved drug.
The Food and Drug Administration (FDA), Division of Gastroenterology Products, has requested that this group conduct well-controlled clinical trials to detennine the safety and efficacy of this rectal suppository and bring this product into compliance with the Food, Drug and Cosmetic Act.
Primary Objectives
The primary objective of this study is to determine the safety and efficacy of these rectal suppositories in subjects clinically diagnosed with symptomatic internal hemorrhoids.
Inclusion Criteria
Subjects must meet all of the following criteria to be eligible for the study:
-Willing and able to sign an Institutional Review Board (IRB) approved written informed consent for this study.
-Male or non-pregnant, non-lactating female who will not menstruate during study participation at least 18 years of age.
-Females of childbearing potential (excluding women who are surgically sterilized or postmenopausal for at least 2 years), in addition to having a negative urine pregnancy test at Visit I/Screening, must be willing to use an acceptable form of birth control during the study. For the purpose of this study, the following are considered acceptable methods of birth control: oral contraceptives, contraceptive patches, contraceptive implant, double-barrier methods (e.g., condom and spermicide), contraceptive injection, intrauterine device (IUD), hormonal IUD, and abstinence with a documented second acceptable method of birth control if the subject becomes sexually active. A sterile partner is not considered an adequate form of birth control. Subjects entering the study who are on hormonal contraceptives must have been on this method for at least 3 months (90 days) prior to study entry and continue the method for the duration of the study. Subjects who had used hormonal contraception and stopped must have stopped no less than 3 months (90 days) prior to Visit l/Screening.
-Clinical diagnosis of hemorrhoids, defined as uncomplicated internal hemorrhoids (grade I, II or III) confirmed by anorectal exam.
-Present with history of internal hemorrhoidal symptoms. For screening entry, the subject must have had anorectal bleeding associated with successful or attempted bowel movement for at least 2 of the 4 most recent bowel movements prior to Visit 11 Day -3 to -1 (Screening). Subject may also have one or more other symptoms: pain, itching or throbbing. At Visit 2/Day I (Randomization) subject must have recorded at least 2 instances of anorectal bleeding and no more than 1 instance of no bleeding associated with successful or attempted bowel movement during the screening period prior to Visit 2/Day I.
-In general good health and free from any clinically significant disease, other than internal hemorrhoids, that might interfere with the study evaluations.
-Willing and able to understand and comply with the requirements of the study, apply the study medication as instructed, attend the required visits within window, comply with therapy prohibitions, and be able to complete the study.