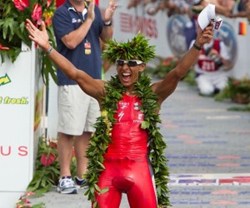 It's been a huge success with over 600 paying members worldwide in the first 10 months and it continues to grow.
Los Angeles, CA (PRWEB) August 12, 2013
Chris 'Macca' McCormack is a legend in the sport of triathlon, with over 20 years of experience and four world titles. To this day, he continues to inspire athletes around the world and dominate with social media and online marketing. Thanks to the continued support and the overwhelming response from his followers on Twitter, Facebook and the MaccaX team, Chris recently got together with some of the best experts in the sport together with a video crew to create "MX PLUS." Recently, Chris launched the innovative triathlon coaching system.
Last October, Chris created MaccaX, an online site that is both social and educational in nature so Chris can communicate to his many avid followers from around the world. It's been a huge success with over 600 paying members worldwide in the first 10 months and it continues to grow. Now, with the launch of MX PLUS, Chris hopes to help even more people learn everything they need to know about triathlon training.
MX PLUS is an online triathlon coaching system that was created based on a lot of the feedback that was received on the first series of MX12 sessions from members who were asking for new sessions or wondering "How do I use these?" MX PLUS is about Chris giving people structure on how to blend the sessions into a training system that works for them. A major feature with MX PLUS is the real time sessions that have been included. These sessions allow Chris to warm up with people and walk them through some of the most time efficient sets that they can do for triathlon training—whether they are a beginner looking to do a sprint triathlon or a seasoned veteran doing an Ironman. In this way, Chris can become part of athletes' online triathlon team.
Within MX PLUS, people will also receive three structured training programs from the world's best coaches. There are 30 great training sessions within this program filmed around the world, all of which have been graded Foundation, Speed, and Strength to assist athletes in their own training plan, regardless of the distance they are training for or level of ability.
Chris continues to lead the way for professional athletes, and is always looking to engage with his online fans and grow his brand and that of his corporate sponsors along the way. For a sneak preview and some free sessions, visit http://www.MaccaX.com/plus.
About Chris McCormack
Chris McCormack is a world-class athlete who has won 76 percent of his career events and finished on the podium 88 percent of the time. Since 1993, he has won 200 races that were held throughout the world and he is the only person ever to be the Olympic Course Ironman World Champion. During his career, McCormack has had 12 Ironman victories, which is more than any other male. He has broken the 8-hour mark in Ironman distances four times, and is the only man to break it more than twice. McCormack is also a five-time International Triathlete of the Year, a four-time Competitor of the Year, and has been named ESPN World's Fittest Man. For more information, please visit http://www.maccax.com/plus