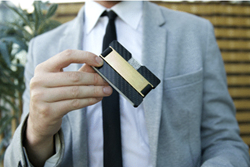 I have a true passion for what I do and I am confident this comes across in each of my campaigns.
Toronto, Ontario (PRWEB) February 15, 2016
Tribe Wallet is a tech-savvy wallet that is not only the perfect wallet for minimalists, but created out of aerospace-grade materials to make it indestructible. Tribe Wallet is currently hosting a Kickstarter campaign where backers have the opportunity to choose between different colors, styles and materials. The campaign has surpassed the product's original funding goal of $5,661 USD and has raised a total of $29,109 USD with 16 days to go.
No stranger to the Kickstarter community, this is Tribe Wallet founder Chase Ellestad's third successful minimalist wallet campaign. Through the three campaigns, Ellestad has been able to raise over $112,000 and the number continues to grow as the days go on. Ellestad's goal was to bring Tribe Wallet to Kickstarter for a third round to bring his loyal and new backers additional material and color options.
"I have a true passion for what I do and I am confident this comes across in each of my campaigns," Ellestad said. "With each campaign I run, I am able to gain more and more backers who have become more like friends than customers to me. Not only are they helping to fulfill my dream of making Tribe Wallet the wallet everyone wants to have, they are also supporting me every step of the way."
More practical and advanced than the ordinary leather wallet, Tribe Wallet has features that surpass even the most expensive, luxury options. Tribe Wallet has a unique push-and-pinch system that has the ability to hold up to 20 cards at a time and fan the cards out for easy access. Each Tribe Wallet also comes with a money clip for cash to stay securely in place. Additionally, each Tribe Wallet comes with RFID-blocking technology to protect the user's bank accounts.
Each Tribe Wallet also has the ability to be completely personalized. There is the choice of carbon fiber, texalium (silver, blue or red), titanium (matte black or anodized gold) or stainless steel money bars. For a few dollars more, backers can choose to have laser engraving on the wallet for an extra personal touch.
Each Tribe Wallet has the functionality to prop up a smartphone to easily catch up on Netflix shows or respond to emails hands-free. Backers still have time to purchase a Tribe Wallet for the discounted price of $45, which is 47% off the market retail value. For more information or to show support for Tribe Wallet, visit bit.ly/TribeWalletKS.
About Tribe Wallet
Tribe Wallet, started in 2014 out of Toronto, focuses on bridging the gap between form and function. Their overarching goal is to not only bring function to everyday objects, but to make them pretty as well. The company continues to improve upon their projects and bring consumers wallets that will never break down. To learn more, please visit http://jointhetribe.co/.