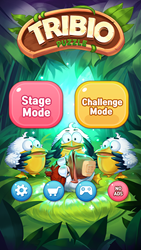 Sujeong-gu, Seongnam-si, Gyeonggi-do (PRWEB) March 12, 2019
TEVOL launches TRIBIO Puzzle, a casual brain puzzle app, on Google Play and Apples's App Store for devices on March 11
TEVOL, a mobile game start-up, registered in G-STAR 2018, a global game exhibition held in Korea, and soft-launched the service in the Korean market in October last year. Based on the user feedback, the company unveiled (or is to unveil) the full version in North America, Europe, Austria, India, and Japan.
What sets TRIBIO Puzzle apart from other typical puzzle games is that the app combines the genres of brain game and tile-matching puzzle game.
If you create three blocks in a row horizontally, vertically, or diagonally, the adjacent blocks becomes yours. If you combine these into three straight blocks again, there will be a massive, dynamic, domino reaction and you will complete the stage. It is the unique rule of the TRIBIO Puzzle.
With a variety of difficulty levels from 4X4 to 8X8 and more than 600 different stages, the officially released version provides users with an enjoyable and colorful gaming experience. To satisfy the needs of many different customers, the game offers two modes, Stage Mode and Challenge Mode.
TRIBIO Puzzle is available for free on Google Play and Apple's App Store and accessible for everyone.
The distinguished mobile game developer, TEVOL was selected as a top-tier company in the POST-IT (Program for Outstanding Tech-Startups in IT) grant program of Korea Institute of Startup & Entrepreneurship Development.
Apple App Store - https://itunes.apple.com/app//id1454193198
Google Play Store - https://play.google.com/store/apps/details?id=com.Tevol.TribioPuzzle