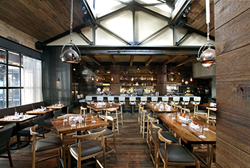 "ABM is rated as the most effective marketing strategy today, yet many are still trying to figure out how to launch and scale their ABM efforts" - Shawn Matthew Cook, Chief Sales Officer @ Triblio
Atlanta, GA (PRWEB) February 27, 2017
Triblio, a leading provider of Account-Based Marketing Software announces a series of "Lunch & Learn" workshops for leading B2B Marketing Executives. These workshops dedicated to "Getting ABM Right" are scheduled for Boston and several other cities will launch in Atlanta on Thursday, March 9th.
Shawn Cook, Triblio Chief Sales Officer and workshop facilitator says, "I'm honored and excited to meet with a group of very talented and innovative Atlanta B2B marketing executives."
The topic of the lunch and learn is Account-Based Marketing (ABM) a subject that has received lots of attention from B2B marketers everywhere has been one of the most Googled topics among marketers this year.
"ABM is rated as the most effective marketing strategy today, yet many are still trying to figure out how to launch and scale their ABM efforts...the savvy marketer knows that ads alone won't cut it. You need a clear strategy built upon data you already have but are probably not using," says Shawn Cook.
The session will review the latest analyst data, case studies and proven, road-tested ABM campaigns that are generating results but are also scalable. Shawn will be share detailed stories of modern marketers who are achieving higher conversion, deeper penetration, more visibility into key accounts and most importantly driving revenue.
Triblio is sponsoring a group of Atlanta-based B2B Marketing VPs and Directors to this invite only event. Interested parties can request an invite here. Expected in attendees include innovative marketing leaders from QASymphony, SalesLoft, GE Power, VersionOne and IBM.
The event will be held at Lure, a highly rated seafood restaurant located in midtown Atlanta.
"We're going to eat delicious food while learning the 5 key pillars of Getting ABM Right. These are the secrets on how to build a high performance sales and marketing team by improving the two most important things; reach and conversion. If you do both well your results will be dramatic and we're sharing that proof," says Shawn Cook.
About Triblio
Triblio provides Account-Based Marketing (ABM) software to generate demand within target accounts. ABM helps engage both known and unknown stakeholders to accelerate velocity at every stage of the funnel. With Triblio, Marketers can target accounts using multiple channels just like marketing automation. Marketers can dynamically customize messaging, content, and calls-to-action by persona and account. Account targeted campaigns produce extraordinary results whether the goal is to acquire new customers or expand relationships with existing ones. You can request a free ABM analysis here
For more information on Triblio visit http://www.triblio.com