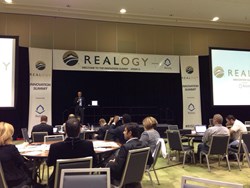 We are confident that contributing to the success of Retsly's services with this investment will yield amazing and exclusive new products and services for TRIBUS clients.
Chicago, IL (PRWEB) November 08, 2013
TRIBUS, a leading real estate technology services company, recently announced an investment stake in Vancouver BC-based Retsly Software, Inc. Retsly is an exciting new backend service that helps technology companies integrate data directly from the MLS in a simple API format. The company celebrated its formal introduction at the National Association of Realtors' annual meeting yesterday, and attracted hundreds of developers to the event to sign up for its services.
TRIBUS was one step ahead of the game, however, in backing this impressive new service months prior to the NAR's Innovation Summit hackathon. In fact, this is just more than an investment in Retsly, as TRIBUS is also excited about the advantages this software firm will have for its own clients due to the many benefits built in to Retsly's platform.
Eric Stegemann, director of Strategy at TRIBUS, said: "We are confident that contributing to the success of Retsly's growth with this investment will yield amazing and exclusive new products and services for TRIBUS clients."
Joshua Lopour, co-founder of Retsly, mirrored Stegemann's excitement for the Retsly launch as well as TRIBUS's investment stake.
"We were very pleased with our launch and TRIBUS's investment obviously played a big part in generating enthusiasm throughout the industry," Lopour said. "We've done all the heavy lifting at Retsly to seamlessly integrate with multiple MLS's, franchises and brokerages to standardize all the relevant real estate data for the use of our clients."
Just a sampling of the products TRIBUS plans to building utilizing Retsly's services, include customizable IDX interfaces, market data reports, broker recruiting systems and more.
Industry insiders had a special chance to get an advanced look at everything Retsly can do when the company partnered with Realogy for the Innovation Summit hackathon at this year's NAR meeting at San Francisco's Moscone Center on Nov. 6. Here, developers were given the use of Retsly's data feed to create a product in a competition setting with the winners eligible for up to $2,500 in cash, free hosting from IBM's Softlayer division, a first look from angel investors, as well as other prizes.
This year's leading effort came from Team RealKick. Their idea of a mobile IDX listing that allows two-way communication between the agent and client in a personalized setting wowed the judges for top prize. The team's idea also allows for back-and-forth communication through the app with push notifications identifying when a home meets the criteria set forth.
Looking ahead, TRIBUS is ecstatic about the opportunities represented in Retsly's offerings, including the ability to focus solely on innovation for the benefit of its customers, as the Retsly platform functions as a centralized location for MLS data, doing all the legwork so clients don't have to.
About TRIBUS
TRIBUS provides a suite of real estate technology services to both real estate agents and brokerages via their integrated CRM (Customer Relationship Management) systems and both semi-custom and fully custom websites. In addition, the company provides robust online marketing, coaching and training programs, ensuring that clients are set-up to succeed online from day one. To learn more about TRIBUS, visit http://www.tribusgroup.com/.
About Retsly
Founded in 2013, Retsly Software Inc. is a backend as a service that aggregates and enhances MLS data and implements a cohesive real-time API as well as an open-source SDK for developing data-driven real estate products in the most efficient environment available to date. Retsly is a member of the Real Estate Standards Organization (RESO), the body that publishes data standards for the real estate industry. Currently Retsly is working with the top Multiple Listing Services and real estate franchisors to provides access to over 500,000 agents and brokers. In September 2013, Retsly was selected to join GrowLab, startup accelerator based in Vancouver, British Columbia. For more information visit http://www.Rets.ly.