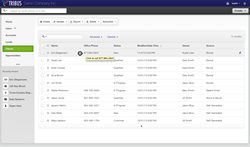 Thousands of agents have helped us bring CRM v3 out of beta by making it easier to use. Now we're ready to simplify all aspects of the REALTORs day-to-day business.
Chicago, IL (PRWEB) November 05, 2013
TRIBUS, a leading real estate technology company, is pleased to announce the launch of its latest Customer Relationship Management version update for real estate and mortgage professionals. TRIBUS CRM v3 comes loaded with a number new features, as well as improved functionality from previous versions. Syncing with Google email/calendar/contacts, a new click to call phone system, enhanced task management capabilities and updates to the exciting "gamification" platform headline the latest additions.
"Thousands of agents have helped us bring CRM v3 out of beta by making it easier to use," said Eric Stegemann, TRIBUS Director of Strategy. "Now we're ready to simplify all aspects of the REALTOR's day-to-day business."
After four years of meticulous coding, testing, recording and retesting, TRIBUS has landed on a revolutionary new CRM that integrates everything a real estate agent, real estate brokerage, mortgage professional or mortgage office could ever need, along with enhancements that will make using the CRM not only easy but fun as well.
Every REALTOR relies on Google Apps' email, calendar and contacts system in the daily management of their business. TRIBUS CRM now synchronizes all of that data effortlessly so agents can continue to use the tools they prefer, which are also the most effective in getting the job done, day in and day out.
Staying in touch with leads, as well as other agents, staff and management has never been easier with the TRIBUS CRM v3 click to call system. Each available phone number is a clickable button that directly dials through the user's mobile device or computer. Calls are then automatically marked down so users will know exactly when they last contacted someone.
The new task management system is automated and easy to configure, allowing the user to identify exactly what needs to be done on a daily basis in order to make the most out of their leads and maintain past relationships, and current transactions. Any real estate or mortgage professional can attest that all leads are not created equally, and the new CRM from TRIBUS acknowledges this fact by offering a system that identifies which leads are not only the most valuable but also the most likely to close.
Accessibility is key with any CRM, and TRIBUS addressed this concern by making a fully responsive CRM system that will function on any device, regardless of size or vendor. So whether a user is nestled in their office on a Monday morning or in their car between showings, they can count on quick and reliable access to the TRIBUS CRM v3.
TRIBUS CRM users have already been introduced to the gamification system, which incentivizes proper use of the CRM. But v3 takes it a bit further, allowing users to go on missions and complete tasks along the way that will lead to tokens, which will in turn lead to badges that can be redeemed for TRIBUS-related prizes like free blog posts, a complimentary coaching call and more.
And the best has yet to come from TRIBUS as the company plans to roll out new features in the coming months. Stay tuned!
About TRIBUS:
TRIBUS provides a suite of real estate technology services to both real estate agents and brokerages via their integrated CRM (Customer Relationship Management) systems and both semi-custom and fully custom websites. In addition, the company provides robust online marketing and coaching and training programs, ensuring that clients are set-up to succeed online from day one.