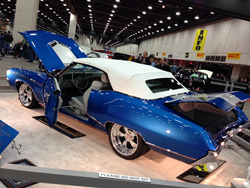 There's a chance that I went a little crazy on this project!
Gurnee, IL (PRWEB) March 12, 2015
When Gurnee, Illinois businessman Steve Loudin's father (Blaine) passed away in 2013, Steve knew exactly what he had to do. He immediately put a plan together to customize the 1969 Buick Skylark that the two of them had purchased together, 30 years earlier.
The father and son pair can be classified as true "Car Guys," and each embraced the fact that they could enjoy this love for everything automotive together. "My first car was a 1968 Skylark, so we were always on the lookout for another," explained Steve. "Then in 1985, Dad and I were attending a trade show together, and the topic of cars came up with a gentleman at the show. He happened to have a 1969 Skylark for sale, so the very next week I made the trip to Atlanta, bought the car, and drove it home."
The Buick purchase really ignited their love of classic American muscle cars, and for the past 20 years they dreamed of using it to create a wild Restomod. A Restomod is typically an early muscle car that has been re-built using today's technology, making updates and modifications to the engine, suspension, brakes, and electronics, so it handles like a modern day sports car. Blaine really appreciated American ingenuity, having also served our country as a pilot during World War II. He retired from Tricel Corporation in 2005 and began collecting Ford Mustangs, and had as many as four at a time, before he started giving them as gifts to his children and grandchildren. "I guess we all have different ways of grieving for, and paying tribute to our lost loved ones," continued Loudin. "I immediately threw my energy, passion, (and wallet) into the project that Dad and I had dreamt about forever."
The car was meticulously disassembled and re-built from the ground up. A new Roadster Shop chassis, a stunning 572 CI Chevy crate motor, a 5-speed automatic transmission, massive brakes, and huge tires mounted on custom wheels ensured that the new version of the Skylark would perform beyond anything the guys ever imagined. The 45 year old body of the car was in amazing condition, so it was used along with a new remarkable paint job. Finally, an upgraded sound system was tastefully integrated into the car's new luxurious leather interior.
"There's a chance that I went a little crazy on this project," admitted Steve. "But, I know Dad would be proud, and more than a few coincidences have occurred during the final days of completing the car, that tell me that he's right here, watching over with me." Steve has no plans for this car to be simply a "Trailer Queen." He plans to drive it on a regular basis, and even put it on the race track.
The car, now known as "Tribute" was unveiled to the public last week, exactly two years after Blaine's passing, at the huge Detroit AutoRama custom car show. The show features hundreds of amazing vehicles, and Tribute was awarded with a Second-Place trophy for custom convertibles. Steve says that he'll miss Dad the most the first time he cruises down the road with the top down, but what a wonderful way to share the car and stories of his father with others who appreciate a great automobile.
Steve and his father Blaine, founded and operated Tricel Honeycomb Corporation, based in the Chicago suburb of Gurnee. Tricel is a supplier to the automotive and marine industries and Steve continues to run the successful company today. This weekend, March 13-15 the "Tribute" car will be on display at the World of Wheels car show event at the Donald E. Stephens Convention Center in Rosemont, Illinois.