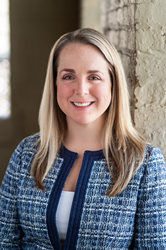 Dr. Jandris is a welcome addition to our faculty. She brings relevant experience to Trident with the intention of improving consistency across all doctoral programs from a process, resource, and execution standpoint. – Dr. Conna Bral, Vice Provost, Trident
CHANDLER, Ariz. (PRWEB) January 25, 2023
Dr. Amanda Jandris has joined Trident University International (Trident), a member of the AIU system, as the Dean of Research and Doctoral Studies. She brings with her expertise in both online and traditional higher education with over twenty-two years of experience as an educator and administrator.
Dr. Jandris comes to Trident from the American College of Education where she served as Chair of Doctoral Research. Prior to that, Dr. Jandris was a tenured Full Professor of Research at Concordia University Chicago where she served as a Department Chair, Executive Director of Doctoral Programs, Director of Academic Research, and Chaired the Institutional Review Board.
An academic with a deep knowledge base, Dr. Jandris has focused her career on teaching, designing, and developing courses and degree programs at the doctoral and master's levels. As an administrator, she has led the development and growth of graduate programs. Her experience as a researcher, professor, administrator, IRB chair, and dissertation advisor has provided Dr. Jandris with a wide-ranging understanding of higher education.
Additionally, Dr. Jandris has dedicated her career to creating doctoral processes and procedures to enhance the student experience. She has created systems to ensure consistency in program reviews and policies at all degree levels as well as enhancing the functionality of dissertation committees.
"Dr. Jandris is a welcome addition to our faculty. She brings relevant experience to Trident with the intention of improving consistency across all doctoral programs from a process, resource, and execution standpoint" states Dr. Conna Bral, Vice Provost, Trident.
As an experienced researcher, Dr. Jandris has published and presented on a wide range of topics related to doctoral program delivery, professional doctorates, and the teaching of research methodology.
Dr. Jandris holds a Ph.D. in Research Methodology from Loyola University Chicago, a Master of Arts in Secondary Education from Saint Xavier University, and a Bachelor of Science in Biology and Natural Resources from Principia College.
About Trident University International
Founded in 1998, Trident University International is a member of the American InterContinental University System, which is accredited by the Higher Learning Commission (hlcommission.org). Trident uses the EdActive™ learning approach, which employs case-based learning in an online setting to teach real-world relevant critical thinking skills designed to enhance the lives and education of students. Trident offers quality associate, bachelor's, master's, and doctoral degree programs and certificates, led by a qualified faculty team, over 80% of whom have doctoral degrees. Trident has over 32,000 alumni, of which more than 27,000 have a military affiliation, and has received acknowledgements from Washington Monthly, Military Times, and Military Advanced Education & Transition for their dedication to student success. Visit http://www.trident.edu or call at (855) 290-0290 to learn more about Trident's wide range of educational options.