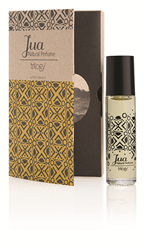 "The oneness of humanity. We are who we are because of our connection to others. And this is what makes us happy." African philosophy of Ubuntu
(PRWEB) October 01, 2014
Jua, which means 'sun' or 'sunshine' in Swahili, is a beautiful, fresh fragrance imbued with a sense of joy and a depth that evokes a feeling of a meadow warmed by sunshine. With a range of notes covering floral, fruity and woody, Jua has an almost universal appeal in a definitively modern fragrance structure.
This natural perfume oil has hand-pressed Tanzanian sunflower oil as its base, produced from one of So They Can's social business projects. The charity invests in communities in severe need in Kenya and Tanzania, focusing on education and building the local economy. So They Can projects are designed to build self-sufficiency with the aim of ensuring sustainable poverty alleviation.
The super-chic roll-on applicator is ideal for the handbag, while the warm, sophisticated scent makes Jua a perfect treat when you need a lift or a feel-good gift for someone you love.
The Fragrance
Inspired by the lush natural environment in Africa, the fragrance itself was in development for several months, going through round after round of trial and experiment, review and refinement. Working with renowned New Zealand-based French perfumer Yves Dombrowsky, Trilogy has managed a rare achievement in Jua – a beautiful bespoke perfume of entirely natural ingredients.
Top notes: bergamot, rose bouquet, freesia
Middle notes: apricot, frankincense, mint
Base notes: cedar wood bark, vetyver, vanilla
The key challenges for the perfumer in creating a totally natural fragrance include achieving a high enough concentration to retain the fragrance in the bottle and longevity on the skin; and having far fewer natural ingredients to work with. Synthetic perfumes are simpler; the greater range of notes enables easier manipulation of the scent, and synthetic ingredients 'fix' the perfume so it lasts longer.
Jua Natural Perfume, by Trilogy (7.5ml) RRP USD $24.00
Beauty Is as Beauty Does
Trilogy takes a holistic approach to responsibility. We like to look after our planet and the people and animals on it. It's just the way we go about the business of beauty. Over the years we've supported many different charities and community organisations. We chose to work with So They Can because they too work holistically, helping women towards self-sufficiency, not through hand-outs, but through sustainable enterprise.
Jua is made by Trilogy for So They Can as an exclusive, limited edition product which will generate funds to support the charity's work in Kenya and Tanzania.
The sunflower oil base of Jua is from the first batch of oil pressed by So They Can's women farmers themselves. Trilogy purchased the entire harvest's worth of oil, providing immediate, direct economic benefit, which will be further enhanced by funds raised from sales of the finished product.

One thousand bottles of Jua have been donated to So They Can for their own fundraising efforts, meaning the entire proceeds will benefit the African communities they work with.
Trilogy will also donate a further $NZ2 for every bottle of Jua we sell to our distributors and retailers globally.
Trilogy's R&D and formulations specialist Stacey Fraser travelled to Tanzania to see the sunflower fields and meet the women So They Can works with there. Here are some of her reflections:
"The women here are the strength of the family. They are strong in spirit, with a beauty that comes from within and radiates outward; their determination to survive and to provide is fierce. Their happiness comes from the success of harvesting. This is what makes them happy because from this they can feed their family, and without it they will starve.
"When I showed them Jua, they were curious. They could not believe that the oil from the sunflowers they had worked so hard to harvest had crossed the seas to a small country called New Zealand and been turned into this. They understood the name Jua but I think they may never have used or experienced a perfume before. At first they didn't know what to do with it, but slowly they started to inhale the aroma, rub the oil onto their skin and then eventually laugh and giggle as they tried to use it under their arms!"
Global Connection
Purchasing this perfume oil connects the buyer and the wearer with the Tanzanian women who produced the key ingredient.
When you buy Jua you are sharing your economic wealth, contributing directly to developing sustainable and self-sufficient communities in Kenya and Tanzania. The fragrance itself is a reminder of the African approach to life, to find happiness in our daily lives and to be grateful for what we have. In this way, the women of Tanzania share their emotional wealth and their life lessons with us.
This reciprosity of giving speaks to the African philosophy of Ubuntu, a philosophy at the core of So They Can's work:
"The oneness of humanity. We are who we are because of our connection to others. And this is what makes us happy."
Our Partnership – Helping through Enterprise
One of So They Can's projects in Babati, Tanzania, teaches women efficient farming practices to help turn their sunflower seeds into a sustainable business. In this land-rich area, the project represents education in enterprise and self-sufficiency at its very best. As a social business, all profits are channelled back into the project to keep the cycle of education and empowerment going.
Seeing the potential to support this fledgling raw material producer, Trilogy got involved in a couple of ways. Firstly, working through So They Can, we encouraged the women to diversify their business into seed oil extraction by pressing the seeds themselves, meaning they now harness more of the commercial potential of their crops.
We brought samples of their first pressings to New Zealand for quality testing – different varieties were being cultivated so it was important to establish which seeds were providing the best oil. Of the different batches, we were able to help them determine which should be propagated and replanted. And they now have independent quality assurance data to help market their sunflower oil.
Next, we became their first sunflower seed oil customer. We purchased the entire first batch of sunflower oil and had it shipped from Tanzania to New Zealand. Here it has been blended into this special, limited edition, 100% natural perfume oil, designed to keep giving back and dedicated to the efforts of the women eking out a life for their families under the African sun. Jua is a uniquely desirable product; it smells good, makes you feel good and actually does good too! Watch a video about So They Can's amazing sunflower farm on YouTube.
Jua Natural Perfume, by Trilogy (7.5ml) RRP USD $24.00
Where to Find Us: Trilogy products are available from Beautorium, Whole Foods Market stores (Midwest) and Plum Market. For more information, visit http://www.trilogyproducts.com.
Editor's Note: For more information on So They Can, visit the website at http://www.sotheycan.com
For further information, images or interviews please contact:
Ann Ryan, US Sales Manager, Trilogy E: annr(at)trilogyproducts(dot)com T: 6128106000
Or
Lisa Wilson, International Communications Manager, Trilogy E: lisa(at)trilogyproducts(dot)com T: +64 4 499 7820
http://www.youtube.com/trilogyproducts | http://www.facebook.com/trilogyproducts | http://www.twitter.com/trilogyproducts | http://www.instagram.com/trilogyproducts
Powerfully Natural