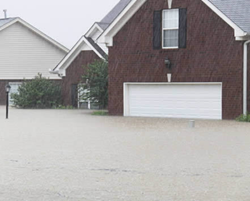 Having a staff actually in San Antonio now will allow us to respond quickly and provide the high level of service our clients deserve. - Nolan Wright, Director of Sales and Marketing
San Antonio, TX (PRWEB) April 16, 2014
While Trilogy Restoration has been involved with some major water and fire damage restoration projects in the San Antonio area over the years, Trilogy now has an office and staff located in San Antonio to serve the entire San Antonio metropolitan area. To help with the expansion effort, Trilogy has already hired several experienced water and fire damage experts to assist with restoration projects already underway in San Antonio.
Over the years, Trilogy has built a strong reputation for being one of the most skilled and reliable restoration companies in the Austin area, and their recent expansion to San Antonio is part of Trilogy's long-term goal of eventually offering their professional fire and water damage restoration services to every major Texas metropolitan area. "Our expansion into the San Antonio market has been in the works for quite some time now, and we're excited to finally have an official presence in San Antonio now. Having a staff actually in San Antonio now will allow us to respond quickly and provide the high level of service our clients deserve," says Nolan Wright the Director of Sales and Marketing at Trilogy Restoration.
There is an increasing need for good experienced restoration companies in San Antonio to help properly restore all the water and fire damaged homes in the area. The need is in part due to the fact that San Antonio is home to a lot of older residences with leaky pipes, old water heaters, and faulty electrical wiring. These sorts of problems always pose a greater risk for fire and water damage to a home. Like Austin, San Antonio also has a lot of homes located in FEMA flood zones, and these flood zones are prone to flooding and water damage when the area is hit by major thunderstorms. Such was the case with the Onion Creek Flood of 2013 in which Trilogy Restoration played a vital role in helping Onion Creek residents recover from major water damage to their homes.
Trilogy Restoration of San Antonio offers the same comprehensive restoration services as their Austin location including fire damage repair, water damage repair, wind damage repair as well as other related services such as emergency board-up, debris removal, contents restoration, mold remediation, and home remodeling. Trilogy's new office is located at 18756 Stone Oak Pkwy #221, San Antonio, TX 78258. For the highest quality restoration repair services in the San Antonio area, call Trilogy Restoration of San Antonio at (210) 641-3650.
Visit Trilogy Restoration of San Antonio online on Yelp, YellowPages.com, and Yahoo as well as connect with Trilogy directly using the social media links to the right.